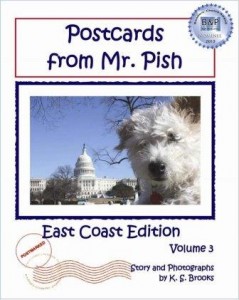 It happens. The title you chose just doesn't generate the sales you hoped. No one besides you "gets" it. It's time to give up on it and try something new.
But your book has been out for a couple of years now and you have some reviews on it. You worked hard getting those and you don't want to lose them. It's just all too horrible to think about.
Not so fast – there is actually a really easy way to update your title and upload a new cover without losing your reviews or your rankings. Imagine that! The order in which you make these changes is crucial, though, so please pay thorough attention. And this is for books on Amazon published through KDP and Createspace only.
Something you may want to also consider is letting potential readers know that this is the same book, just a different title. You should probably make mention of this at the bottom of the book's description as well as on the copyright page. Perhaps language such as "Originally released in 2011 under the title (original title here)" will help avoid confusion.
Log in to your KDP account. Go to your bookshelf. Scroll to the book you want to change and click Edit Book Details. (see image below with the chimp-drawn arrows)

At the top of the page, under Book Name, type in your new title.

Next, upload your new cover file.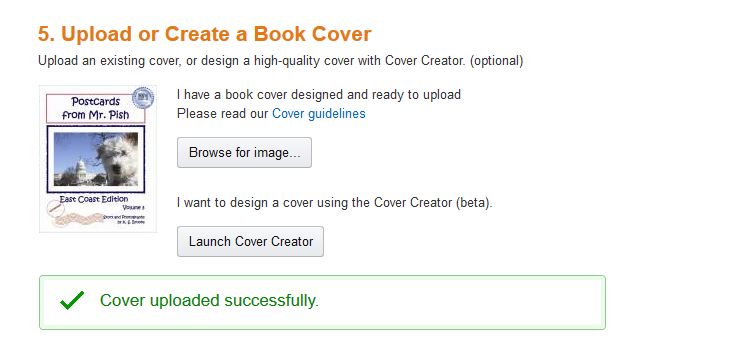 Scroll down. You don't need to do anything else now EXCEPT for clicking the orange Save and Continue button. On the next page, you click Save and Publish. You're done. It's literally THAT easy. (Note – before you click publish, make certain that your book's description in Author Central matches the one on KDP or it will be overwritten. This article explains.)
The print edition is another story, however. (Ha – bad writing pun, sorry.) You will have to unpublish your old edition and create a new book from scratch for the retitled one. Now, unpublishing isn't really "unpublishing." You will need to remove the book from all of its sales channels. So, sign into your Createspace account. Go to the project homepage of the book you want to "unpublish." Click on Channels under the Distribute tab (see image below).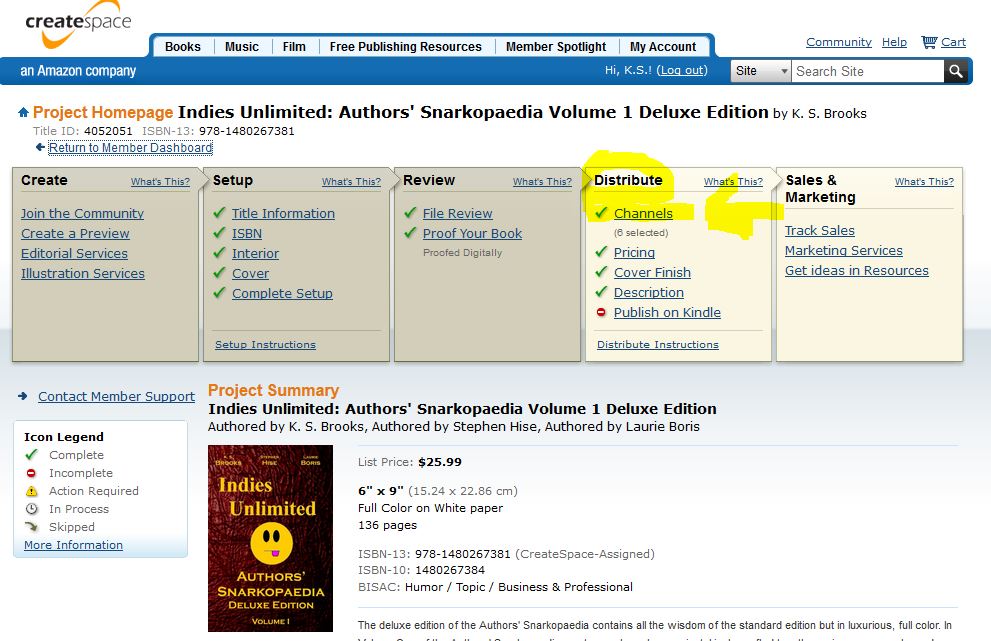 Once you're on the channels page, work your way down the list and click each blue Selected arrow in order to unpublish from that channel.(See below.)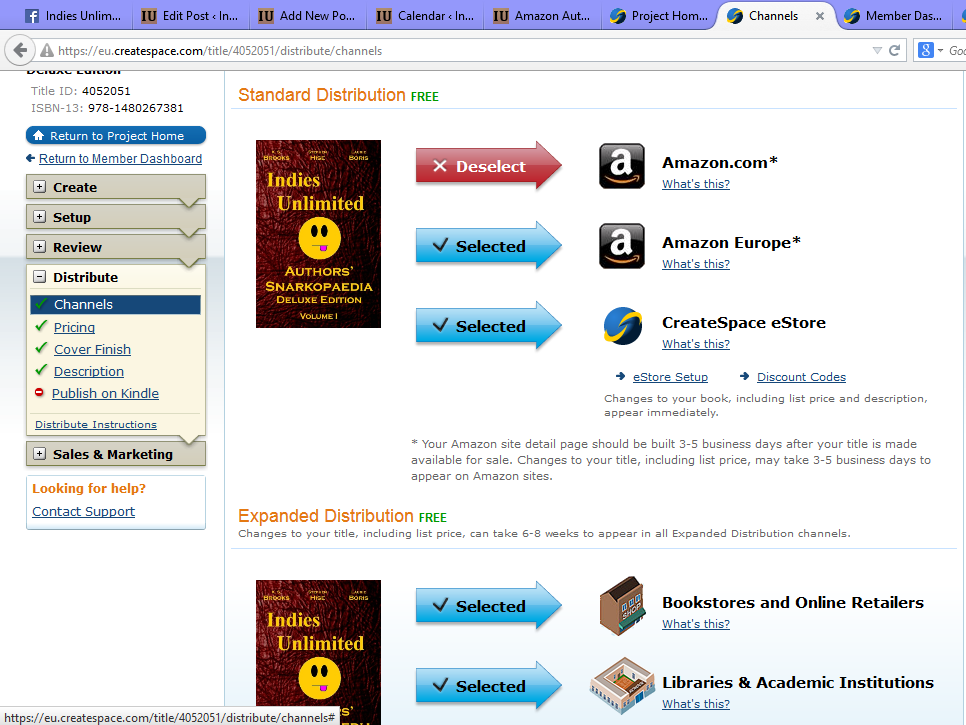 The experts suggest you now contact Createspace customer service and have them "retire" the book. I've never done that, so I have no idea what that entails.
Now, go ahead and upload your new cover with the new title and your updated print interior file. Once you've approved the proofs and published your book – you'll now need to hook it up to the Kindle version so that they will nest together and share reviews. You can do this through Author Central. This article gives you step-by-step instructions on how to "merge" your print and eBook editions.
Once your versions are merged, your book's screen should look like this:

And then you're done. So see – not so horrible after all, is it?