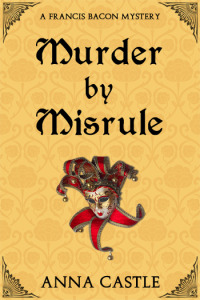 Murder by Misrule
by Anna Castle
Genre: Fiction – Historical Mystery
Word count: 89,000
Francis Bacon must find out who is murdering barristers in Elizabethan London before he becomes the next victim.
Francis Bacon is charged with investigating the murder of a fellow barrister at Gray's Inn. He recruits his unwanted protégé Thomas Clarady to do the tiresome legwork. The son of a privateer, Clarady will do anything to climb the Elizabethan social ladder. Bacon's powerful uncle Lord Burghley suspects Catholic conspirators of the crime, but other motives quickly emerge. Rival barristers contend for the murdered man's legal honors and wealthy clients. Highly-placed courtiers are implicated as the investigation reaches from Whitehall to the London streets. Bacon does the thinking; Clarady does the fencing. Everyone has something up his pinked and padded sleeve. Even the brilliant Francis Bacon is at a loss — and in danger — until he sees through the disguises of the season of Misrule.
Murder by Misrule is available from Amazon.com, Smashwords, and Amazon UK.
Anna, how did you come up with the title for your book? Does it have any special meaning?
The special meaning is clarity of genre. I like alliteration and the story is set in the season of Misrule.
Who was your favorite character and why?
I love all my characters, even the walk-ons, even the bad guys.
Does your book have any underlying theme, message, or moral?
The general theme is Misrule: nothing is as it seems.
What would/could a reader or reviewer say about this book that shows they "get" you as an author?
What the heck kind of a word is 'spondulate'?
Give us an excerpted quote from your favorite review of this book:
"Castle's characters brim with zest and real feeling… A laugh-out loud mystery that will delight fans of the genre."
Where can people learn more about your writing?
http://www.annacastle.com