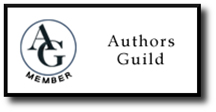 As the world of self-publishing continues to change the publishing landscape, two organizations that have traditionally been off-limits to self-published authors seem to have had a change of heart.
The Authors Guild
The Authors Guild bills itself as "the nation's oldest and largest professional society of published authors, representing more than 9,000 writers," and claims to have "achieved much for individual authors through the collective power and voice of their members," including improving author contracts and royalty statements, and protecting authors' rights under the First Amendment.
Members have access to various panels and programs as well as access to health insurance, legal services, media liability insurance, and low-cost website services.
Historically, membership in the Authors Guild has only been possible for traditionally published authors. Predictably, this requirement has led to some hard feelings. For example, the comment section under a recent Authors Guild blog post, "The Amazon-Hachette Debate Yields Diverse Opinions Among Authors," became so heated comments were ultimately closed.
In a July 31 interview with board president Roxana Robinson, journalist Porter Anderson learned two important bits of information: First, the Guild recognizes the publishing world is changing and wants to be a part of that change. Second, self-published authors may now join the Guild if — and this is important — they can demonstrate that writing is a part of their livelihood.
For more detailed information, click the Authors Guild link above and select "Join Now" from the far right on the navigation bar. In a nutshell, the membership fee for the first year is $90.00. The membership fee for subsequent years will be determined on a sliding scale based on author earnings (yes, it's that vague.) To apply for membership, self-published authors will have to select one of the following options from the dropdown:
I have earned at least $5,000.00 in writing in the past eighteen months.
I have earned at least $500.00 in writing in the past eighteen months.
I have earned less than $500.00 in the past eighteen months.
Authors earning at least $500.00 in eighteen months may qualify for membership, but not receive voting privileges. Authors earning at least $5,000.00 in the past eighteen months may receive full membership, including voting privileges. Truthfully, I'm not sure why the last option is even given. If I understand the information correctly, authors earning less than $500.00 in the past eighteen months will not be eligible for membership.
While Robinson states proof of income isn't necessary for determining future membership fees, proof is required for determining eligibility. And yes, they will ask for proof, in the form of royalty statements (KDP statements are also accepted as proof.)
Publishers Weekly
Publishers Weekly took advantage of their opportunity at BookExpo America this summer to announce BookLife, a new subsidiary for self-published authors whose books are available for purchase in the United States.
BookLife is, first and foremost, an informational website that provides articles and information on every aspect of book creation, from filing copyrights to marketing and social networking. There is no fee to join. One of the most compelling reasons to sign up for BookLife, however, is that once an account is opened, self-published authors may submit their books for consideration for a Publishers Weekly review — at no cost.
Some may remember PW Select, another subsidiary of Publishers Weekly whereby authors could pay $149.00 and submit books in hopes of a review. The vast majority of books submitted did not receive a review, but were added to the PW Select insert in the Publishers Weekly magazine. PW Select still exists, but reviews for self-published books are now handled strictly through BookLife, again, at no cost to the author.
Once an author opens an account, he/she will enter the title, ASIN or ISBN, upload a cover photo (600 x 900, jpg or png), and the book file (unless snail-mailing a paperback or hardcover, in which case an address and confirmation code will be provided.)
Within a couple of weeks of submission, the author will receive an email either stating the book has been declined for review, or is under consideration for review. If the book is chosen for review, the process can take twelve weeks or longer.
To paraphrase Bob Dylan, the publishing times are a-changing.