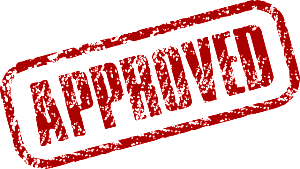 I read an article recently where an author discussed the benefits of purchasing a review from Kirkus. He felt it lent credibility to his work. He claimed that there was no boost in sales from the paid review, so it did not help him connect with any new readers, but he thought it gave him credibility. Yes, credibility. Stay tuned, I have more; it's been a busy month.
I attended a meeting a short while ago at a major library. The library management invited a group of local authors to participate in a think-tank and discuss how the library could connect with the self-publishing community. It was a really powerful meeting. Some of the authors were both self and traditionally published and I overhead a couple of them talk about how they felt legitimized by signing with an agent and being traditionally published. I heard the same comment when I taught a workshop recently. There were authors who felt they needed to be legitimized, and having an agent or publisher would deem it so.
Now, before I rant, I will qualify that I am indeed the guy who didn't make the team. I was rejected over and over again by agents and publishers. So, I cannot sit on my high horse and state that I made a choice and decided to fly solo in spite of publishers knocking down my door. I did get close though. When my first book hit its highs on Amazon's charts at the beginning of 2012 I was approached by a publisher. After a few confusing emails back and forth we decided we'd just be friends. My second close call came a few months later when I won a contest of sorts and had two fairly major agents interested in two of my books. When they asked for changes (lots of changes) to be made in a book that had already sold twenty thousand e-copies I decided to pass and continue doing my own thing. So, in fairness, when I reached the fork in the road, the sign toward Indieville was pretty clear. I knew that I had to continue doing what I'd been doing.
Writing my first book took me over three years. I disappeared. My significant other knew what I was doing but no one else did. I was actually kind of disappointed when I unveiled my masterpiece and no one had noticed that I'd been missing from time to time. But, that's another story. When the word got out that I'd written a book, I had a friend who proclaimed, "You're now a published author."
I mumbled back to him, barely getting the words out, "Yes, a self-published author".
He didn't care. He was proud of me. It made me think though. At that point I hadn't sold many books. I'd published, but I wasn't comfortable calling myself an author yet. A month later due to a number of factors and one of them was being in the right place at the right time (can you say KDP Select – Feb. 2012), things changed. Readers began downloading my book. I even got into the top five overall on Amazon's rankings. Publishers Weekly, the veritable encyclopedia of published work, mentioned me and my book. Forbes interviewed me, newspapers wrote about me, a friend in England even called to tell me my book had been mentioned on a breakfast show in the UK. And Amazon cited my self-publishing story in a press release. I don't tell you these things to illustrate how brilliant I am, because remember there was a fortuitous aspect to my success. I tell you them because when all these amazing things were taking place I experienced a shift, a major shift.
At the time, I was vacationing with my significant other – the freckle-faced girl, and a couple of our friends in one of my favorite places – Portland, Oregon. If you need inspiration – visit Portland. It's a great city and if you're like me, it may whisper in your ear and tell you a story or two. While in the city that boasts that it's the home to the world's largest bookstore, we had dinner with a number of people we had just met. As we went around the table we told each of our new friends what we did for a living – what our vocation was. When it was my turn my friends and the freckled girl watched me, wondering. I told the table that I was an author. And, it felt okay to say it. I didn't feel like an imposter. What was the difference? Was it the brief mention I got in Publishers Weekly? The Amazon press release? The breakfast show in Britain that discussed my book? No, I don't believe it was any of those things. It was something much simpler, more basic.
I had credibility and felt legitimized as an author because my readers said so. And they still do, over and over again, every day. I tell stories. I tell stories and readers read the stories and pay for them. That's all I ever wanted to do, and that's who I wanted to be. And, that fits my definition of being an author. That's my legitimacy, my credibility. There are ways a traditional publisher could help me; I'm not denying that. But, in terms of having credibility or being legitimized, my readers give me that. And really, that's all I need.