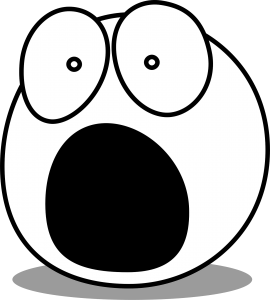 Look around Indies Unlimited and you'll find lots of good writers. Some of them are even very good writers. In fact, I would be willing to bet that there isn't a lot that separates the best of us from the worst of us. So why does it seem that a few do better than the many?
Fear.
Fear of rejection. Fear of success. Fear of … well … just about anything outside of writing.
When do we feel the safest? You got it, when were squirreled away in our writing space. Our writing haven. All our little things surround us that help make us comfortable. Whether it's the chair or pictures, or other books — this might be your safe place. You can write with reckless abandon and drift away to another world. Your world that you created.
You can pound out the words or edit and revise without a worry in the world. If we're so good at this part, what keeps us from the rest?
Fear.
Throughout the years, I've heard many a writer lament on public speaking or promoting their books. There has been a multitude of reasons that really good work goes on treading water for years. "But, I promote myself through Facebook and other places online?"
Think about it, besides that fact that it is free, what other reason do you gravitate to these platforms. Yep, you can hole yourself up in your "writing" space and … write. It's the path of least resistance.
Conquering fear will take you to the next level. The first step is identifying your fear. Spend some time and ask yourself the hard questions. Discover the real reason you won't stop in at the local bookstore and ask for a date to do a reading. You see, the only way to get over your fear is to attack it head on.
One of the greatest means for overcoming fear is commitment. I know it sounds cheesy, but it's true. There is a difference in interest and commitment. You might have an interest in writing and publishing. That's great, but you will typically take the path of least resistance. Commitment is built on results. You won't stop until you achieve the results that you want.
I'm sure we could ask Martin Crosbie about fear and commitment. He quit his full-time job to write. I know what you're going to say: "If I sold 30,000 books in one month I'd quit my job, too!"
You say that … but, would you? We all know the details about selling eBooks. It's not like he won the lottery and made millions. The commitment that he made going forward put him out there. There was no plan B. How many of us can put the fear of the unknown aside and take that chance?
It's time to conquer our fears. It's time to schedule that book reading … in public! It's time to offer a seminar on self-publishing. It's time to do that radio or blog interview. Put yourself out there and get trampled a little bit. Get comfortable being UNcomfortable.