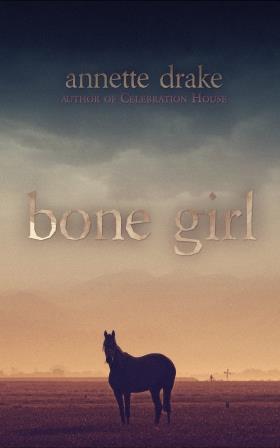 Bone Girl
by Annette Drake
5.0 average rating from 6 reviews
Word count: 42,000
A lonely girl learns to play a discarded trombone. An abused stallion learns to trust. Together, they save their world.
Eleven-year-old Josey Miller knows two things: it's her fault Mama left, and she will do anything to coax her back.
Mrs. Casey, the new music teacher, starts a band at Bennett Springs Middle School, and Josey sees it as her chance to finally belong to something and convince Mama to visit for her concerts. The only problem: there's no money for a clarinet, what with Dad laid off and fighting to keep their farm.
Things start looking up when Grandpa Joe gives Josey an old trombone to play, and Mr. McInerny starts boarding his high-dollar Arabian stallion with Dad. Nobody can train horses like Josey's father. And that's good because Chief is dangerous.
But when her father and the stallion go missing during a 50-mile endurance ride in the Ozark Mountains, can Josey bring them safely home?
This book is available from Amazon, Smashwords, and Barnes & Noble.
Excerpt from BONE GIRL by Annette Drake
Night descended on the camp. Josey stood at the finish line. The last riders had come in hours earlier. She couldn't understand why Dad hadn't finished. Where could he be? When the two drag riders came in, fear came with them.
She saw Grandpa Joe go up and talk to them. The rider leaned over and said, "We saw his tracks. We think at one point, the horse must of thrown him, but I don't know what happened after that. If he's not here yet, he's in trouble."
He stopped talking when Grandpa Joe leaned in and whispered to him. The man looked at Josey, then the ground. He turned away and rode off.
Riders and their crews tended the horses, then settled in for another night of camping. After the awards ceremony in the morning, they would all head home. Now, they rested. Campfires were built. Warm food shared. The competition was over. This was the time for camaraderie.
After a long heated discussion between Trina and Mr. McInerny, the sheriff was called and told of the missing rider. He arrived about 30 minutes later and after being briefed on Carl and Chief, he talked about ordering a helicopter to circle over the trail or sending dogs out to search.
One of the riders spoke up, "Sheriff, that terrain is rough. In the daytime, it's a hard go. At night, damn near impossible, is the way I figure it."
The other rider nodded in agreement.
"I don't know where Carl could be. We rode a wide swath across that trail. He'd have to be pretty far off it for us to have missed him," said the other rider.
"Does he have a cellphone?" the sheriff asked, looking at Grandpa Joe and Josey. She shook her head no.
"Wouldn't do him any good," the rider said. "There's no service in these mountains anyway."
"Let's light a flare, see if we can signal him back in," the sheriff said.
He went to the trunk of his car and got out a flare gun. Aiming it high in the sky, he pulled the trigger and a red light burst upward toward the heavens. They watched the flare burst into light, then trickle down, the bright red brilliance fading as it drifted back to earth.
Josey felt the wind on her face, and it began to rain again, softly at first, then a hard downpour. The sheriff got into his car and the riders took shelter inside one of the horse trailers. Mr. McInerny left. Josey and Grandpa Joe climbed into the front seat of Dad's pickup. Grandpa started the truck and turned the heater on. They sat together, not saying a word. Josey felt the cold deep inside.
Grandpa Joe looked over at her, "Try not to worry, Josey girl. Nobody knows horses better than Carl Miller. Why do you think McInerny brought him that stallion? Too far to drive to Springfield? Hell! They wouldn't have that horse down there. Your daddy was the last chance for Chief. It was Carl Miller or the slaughter house. If anybody can bring that stallion in, it's your daddy."
Josey tucked her head down onto her chest and sobbed.
Grandpa Joe reached behind the seat and grabbed a blanket from underneath Josey's trombone. He wrapped the blanket around her shoulders. "Here, you're freezing."
They sat there in the silence and Josey looked at the clock on the dashboard. It read 10 minutes to 10.
"If only we had some way to call them in, like ringing a dinner bell," Grandpa Joe said. "But I don't know any way to get that horse's attention."
Josey looked at her grandpa. Her face lit up. She shrugged off the blanket and jumped out of the truck.
"I do, Grandpa. I do!"