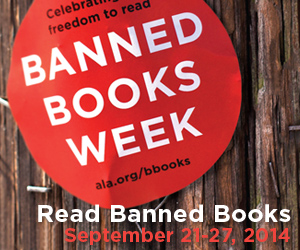 Captain Underpants wins again. In fact, what may seem like a fairly innocuous graphic novel series about a couple of fourth graders defying authority has been the most frequently banned/challenged book for the past two years. According to the American Library Association's Office for Intellectual Freedom, here are the top ten most challenged books for 2013:
Captain Underpants (series), by Dav Pilkey
Reasons:  Offensive language, unsuited for age group, violence
The Bluest Eye, by Toni Morrison
Reasons:  Offensive language, sexually explicit, unsuited to age group, violence
The Absolutely True Diary of a Part-Time Indian, by Sherman Alexie
Reasons:  Drugs/alcohol/smoking, offensive language, racism, sexually explicit, unsuited to age group
Fifty Shades of Grey, by E.L. James
Reasons:  Nudity, offensive language, religious viewpoint, sexually explicit, unsuited to age group
The Hunger Games, by Suzanne Collins
Reasons:  Religious viewpoint, unsuited to age group
A Bad Boy Can Be Good for A Girl, by Tanya Lee Stone
Reasons:  Drugs/alcohol/smoking, nudity, offensive language, sexually explicit
Looking for Alaska, by John Green
Reasons:  Drugs/alcohol/smoking, sexually explicit, unsuited to age group
The Perks of Being a Wallflower, by Stephen Chbosky
Reasons:  Drugs/alcohol/smoking, homosexuality, sexually explicit, unsuited to age group
Bless Me Ultima, by Rudolfo Anaya
Reasons:  Occult/Satanism, offensive language, religious viewpoint, sexually explicit
Bone (series), by Jeff Smith
Reasons: Political viewpoint, racism, violence
I'm not the first person to notice Dav Pilkey's repeat performance. The folks behind Banned Books Week (September 21-27, 2014) have it on their radar, too…so much so that this year's event focuses on banned and challenged graphic novels and comic books.
I've been a comic book/graphic novel fan since college, when I met a few artists and writers who would go on to work for DC and Marvel. Without the awareness of the talent that goes into an art form that some write off as kid stuff, I might not have read beautiful and compelling graphic novels like Art Spiegelman's Maus and Alan Moore's Watchmen.
Both of which have faced bans from schools and libraries and are among the most frequently challenged graphic novels in history.
Why even have comic books and graphic novels in schools and libraries, you may wonder? Sometimes they are used to promote literacy as well as being an inspiring, creative art form in their own right. But according a Library Journal interview with Charles Brownstein, executive director of the Comic Book Legal Defense Fund, many who seek to have them removed see them as a "low art form" and therefore don't consider that the creators are entitled to the benefits of free speech that other works enjoy. The College of Charleston even had some of their funding cut for including Alison Bechdel's Fun Home, an Eisner award-winning, coming-of-age graphic memoir, in one of their reading programs.
In fact, there have been so many high-profile challenges to graphic novels and comics lately that the CBLDF has taken action: they have created a handbook for librarians to help them better understand the craft and culture of the medium. This handbook includes some background on manga, a Japanese-inspired graphic novel/comic book form that has been misunderstood and taken out of context by some Western-hemisphere readers, therefore at times making it a target for censorship and legal action.
The organizers of Banned Books Week are leaving the choice of activities up to individual communities. You might want to pay a visit to your friendly neighborhood comic book store (or library) to see some of this powerful work for yourself.
No matter the mode of expression, censorship is censorship. It's the driving force behind the Banned Books Week program that while families get the right to decide what their own kids will read, none should get the right to deny those rights to others.
Have you read a banned book lately?