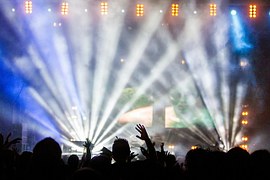 Last week we discussed fear in our writing careers. After reading comments, both public and private, I decided to take things one step deeper this week. After all, it's easy to say, "Don't let fear get in the way of your success."
Many of us recognize our fears. How do we overcome them? Can I tell you to just go and talk to the bookstores and you'll conquer your fear? Hardly, it's much more complex than that. With that in mind, here are five easy steps to help you build confidence and chase away your fears.
1. Recognize what you do well. Instead of dwelling on what you didn't get done, focus on what you did well. Whether it's a word count or making that call to an expert to gather info for your latest book. Each thing we do successfully builds confidence. Many times, we go through the day never acknowledging the good stuff.
2. Be thankful. I know, seems silly. How does being thankful build confidence and conquer fears? Look, you get to write books that make people laugh and cry. You help others handle disease and sickness, marriages and divorce or just escaping the "real" world. If that is not enough, spend the day volunteering at the homeless shelter or pediatric oncology wing at the local hospital. The smallest actions on our part can literally change someone's life. As you harness the mental aspects of these actions, your fears will wither away. Your confidence builds. Suddenly, it's a lot easier to stand in front of a room full of people and talk about your books.
3. Reach out to the people around you. We have a great community in Indies Unlimited. We're all in this together. Reach out for help. Share your stories and fears. I can guarantee, some of us experience the same things and share the same fears. Are you part of a local writing group?
4. Set short-term goals. Pick three goals each week and target them for completion. This ties in to the commitment piece that we discussed last week. Each time you hit your target, you build confidence. Be realistic. If you don't hit one goal, don't beat yourself up. Losing is a part of winning. The mental process that occurs when you don't achieve your goal is what helps catapult you in the future.
5. Reward yourself. Celebrate. Each week, look back and recognize what you accomplished, no matter how small. Building confidence and conquering fears is an ongoing process. The end result isn't a published book (many would agree that is just the beginning.) Each step of the way from the first words to editing to successfully uploading to Kindle is a reason for celebrating. So do it. Life is too short. Don't miss out on the little celebrations on the way.
The more fun you have, the less fearful you'll be. Embrace the process as much as the result. When you feel good about your accomplishments, fear melts away. It's easy to talk to a room full of people or go on a radio show when it's another process in a long line of celebrations. Yes, celebrations. Every day you give life to your work, you should celebrate. You're creating. That's an exceptional talent and not everybody can do it.
Be fearless and create—and then share it with the world.