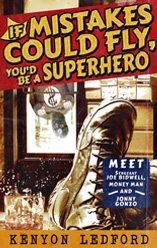 If Mistakes Could Fly, You'd Be a Superhero
by Kenyon Ledford
Genre: Parody Flash Fiction Collection
Word count: 8,500
The city is crying out for help. Private Eye Jonny Gonzo and Police Sergeant Joe Bidwell have arrived to help. Okay, so now the city is crying out for a superhero, instead. Up, up, and away, Money Man is on the way! Geez, people wonder why there is so much urban flight. This book of screwball flash fiction crime tales begins in an American urban sprawl, and culminates with a wild shootout of a fan-fiction epic involving a bizarro side of Batman and Robin, and taking place in the wild lands of Tasman, Australia.
If Mistakes Could Fly, You'd Be a Superhero is available from Amazon.com and Amazon UK.
Kenyon, how did you come up with the title for your book? Does it have any special meaning?
The title to the book was uttered by one of its characters, Police Sergeant Joe Bidwell, at Private Eye Jonny Gonzo. Bidwell had shown up to a crime scene that had, shall we say, escalated after Gonzo's arrival.
Who was your favorite character and why?
I probably like Bidwell the best, as his voice in my head sounds the most soothing and sane, despite his lunacy and idiocy.
Does your book have any underlying theme, message, or moral?
No.
What would/could a reader or reviewer say about this book that shows they "get" you as an author?
Anytime I get a death threat, or see that a book has been refunded, it shows that a reader "gets me" as an author.
Give us an excerpted quote from your favorite review of this book:
"This book actually made me laugh. A lot. Out loud. This is extremely uncommon with me as the funniest comedy shows, books, movies or whatever hardly ever makes me laugh."
Where can people learn more about your writing?
http://www.kenyonledford.com/