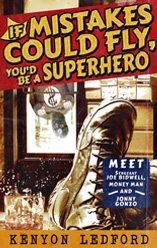 If Mistakes Could Fly, You'd Be a Superhero
by Kenyon Ledford
Genre: Parody Flash Fiction Collection
Word count: 8,500
The city is crying out for help. Private Eye Jonny Gonzo and Police Sergeant Joe Bidwell have arrived to help. Okay, so now the city is crying out for a superhero, instead. Up, up, and away, Money Man is on the way! Geez, people wonder why there is so much urban flight. This book of screwball flash fiction crime tales begins in an American urban sprawl, and culminates with a wild shootout of a fan-fiction epic involving a bizarro side of Batman and Robin, and taking place in the wild lands of Tasman, Australia.
Continue reading "Book Brief: If Mistakes Could Fly, You'd Be a Superhero"