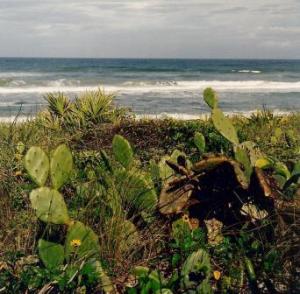 Maybe the ones who went down with the ship were the lucky ones. I drifted on flotsam for days, only to wash up here, on a small cactus-strewn island.
Even in my weakened condition, it didn't take long to walk its breadth. There was no water. This is how I would die.
I collapsed onto the coarse warm sand and closed my eyes against the midday sun. I awoke to a sound coming from the scrubby growth…
In 250 words or less, write a story incorporating the elements in the picture and/or the written prompt above. Do not include the prompt in your entry. The 250 word limit will be strictly enforced.
Please keep language and subject matter to a PG-13 level.
Use the comment section below to submit your entry. Entries will be accepted until Tuesday at 5:00 PM Pacific Time. No political or religious entries, please.
On Wednesday afternoon, we will open voting to the public with an online poll for the best writing entry accompanying the photo. Voting will be open until 5:00 PM Thursday.
On Friday afternoon, the winner will be recognized as we post the winning entry along with the picture as a feature. Then, at year end, the winners will be featured in an anthology like this one. Best of luck to you all in your writing!
Entries only in the comment section. Other comments will be deleted. See HERE for additional information and terms.