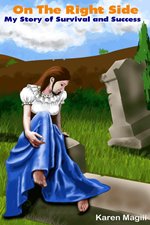 On The Right Side: My Story of Survival and Success
by Karen Magill
Genre: Memoir
Word count: 43,000
What if you woke one day to find yourself paralysed on one side of your body?
That's what happened to Karen Magill on June 5, 2000. Nine days later she was diagnosed with multiple sclerosis and just over three months after that, she had to leave the best job she had ever had. Ms. Magill started on a frightening, confusing journey.
Then something interesting happened. Once Karen began adjusting to her new circumstances, coming to terms with the fact that her former life had vanished, she realized that the MS was a gift. Her eyes opened to the possibilities around her.
On The Right Side, My Story of Survival and Success looks at Ms. Magill's life with MS and the factors in life which influence her. This isn't a how-to book on living well with chronic illness, but rather a touching, opinionated, sometimes humorous story on how one person has gone from partial paralysis to jumping to touch low hanging tree leaves.
On The Right Side: My Story of Survival and Success is available from Amazon.com  and Amazon UK.
Karen, how did you come up with the title for your book? Does it have any special meaning?
I feel that as long as you aren't six feet under, you are on the right side and anything is possible.
What was the hardest part of this book to write?
I read over diaries I kept for the first 2 years after I was diagnosed with MS. Reliving some of the more emotional parts was difficult.
Does your book have any underlying theme, message, or moral?
I want people to realize that each one of them is capable of doing more than they think.
What would/could a reader or reviewer say about this book that shows they "get" you as an author?
If a reader or a reviewer read On the Right Side and said they realized that anything is possible, then I would know they get me.
Give us an excerpted quote from your favorite review of this book:
"This is not a woe is me story but really a story of survival."
Where can people learn more about your writing?
http://www.karenmagill.com/