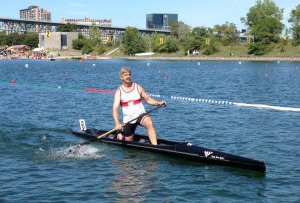 Guest Post
by John Kenny
I like to think of myself as something of a renaissance man. Others regard me as a dilettante. The truth probably lies somewhere in between. I perform my own car maintenance and repairs. I sew (some of) my own clothes. I've done all the framing, electrical, plumbing and other work in renovating several homes. I create stained glass. I'm a volunteer mentor at my local jail. I also sail, garden, bake and race sprint canoe. Yes, the latter is a real Olympic sport. This year I won two golds in my age category (not quite dead yet) at the National Championships.
I also write when the mood strikes me and/or I make the time.
All of these things enrich my life and I wouldn't want to do without any of them.
"Self-publishing ate my life," Eileen Goudge wrote in an IU piece about a month ago. When I read about the amount of work many of you put into your marketing and promotion, I am amazed, horrified, awed, amused, inspired and dismissive, sometimes all in the space of a few seconds. I've even felt pangs of guilt for not being as dedicated, but they pass quickly.
I get it: for most of you writing and all the ancillary work that goes with it, are a career and a vocation. I truly admire that kind of focus. My own approach to the craft is more casual. For one thing, I'm not trying to make a living by writing. And I've just never been able to – Squirrel!!
But there's more to it than just a short attention span and a reluctance to sacrifice my other interests. I simply don't find the virtual world, that is so central to Indie marketing and promotion, all that interesting.
I joined Facebook and a couple of other platforms last year, when my novel came out, because I was told that I should. Frankly, social media leaves me flat. I can quite happily go the rest of my life without someone's sophomoric idea of an inspirational slogan.
I love to read. I don't have a TV because I'd much rather spend my time actively reading than passively watching the drivel on the airwaves. But I'm interested in the book, not the details of an author's personal life. I'd never been to an author's website before starting to research my own. The back cover is enough for me. I know other people feel differently, I just don't understand why.
So I hardly spend anytime posting or blogging. There's enough going on in my life that I'd have enough to write about, but I don't feel the need to keep an online diary. I'm not pathologically shy or private, I'd just rather spend my time living my life than writing about it.
What little marketing and promotion I have done over the last year has been infrequent, inconsistent and half-hearted. Here's a summary of the results: 421 physical books sold and 280 Kindle copies. I'm not sure how many Nook, iBook, Kobo and other eBooks – maybe 10% of the Kindle total? The Spark is in four library systems in southern Ontario, including the Toronto Public Library and circulating actively. All seven copies in Toronto are out at this writing.
I'm still down about $2,000, but I figured from the beginning that breaking even was a best case scenario. I deliberately spent a lot of money on cover and interior design, editing and proof reading, and website design. I'm very happy with the results and don't begrudge the money spent at all. I know I'm in a somewhat unique and privileged position to be able to do that, for which I'm grateful.
Yes, I could sell more books if I was serious about the marketing and promotion, but I'm not willing to let that part of self-publishing "eat my life". I don't enjoy doing it and I resent the time it takes. Sure, I'd like more people to read my story. Who wouldn't? On the scale of importance though it's down around a two out of ten. The cost-benefit equation just doesn't work out for me. It's the creative act of telling a story that I love.
One could get all wrapped up in the "if a tree falls in the forest…" question, but I'm not too concerned about how many people hear it. I still write real letters, with pen and paper. I'll spend an hour or two reflecting, observing and sharing. It's personal and meaningful. The fact that only one or two people will read it is irrelevant.
It's the quality of the writing, the word craft, which matters most to me. Readers of The Spark from whom I've heard, have enjoyed both the story and the insider's view of life in the fire service. The reviews have, so far at least, all been favorable (Big Al gave it 4 stars). That's good enough for me. I don't want the drudgery of marketing to poison the fun of writing.
So I'll continue to plod along as a casual writer.
---
John Kenny is an author and fire department captain. When not scribbling or running into burning buildings, John likes to gripe about all that new-fangled stuff, like the wheel, and how much better life was before the continents drifted apart. His first novel, The Spark, recently won "Best Mystery/ Thriller" in the 2014 Indie Reader Discovery Awards. Learn more about John at his Amazon author page and his website.