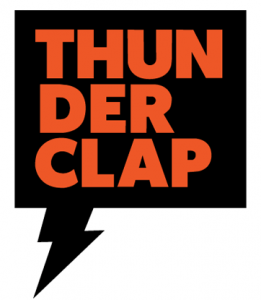 Unless you've been busier than Kanye West's damage control team, you might have noticed indie authors using various crowdfunding ventures like Kickstarter to raise the scratch to produce their books. Ask people what they think about the practice and you're bound to start an argument, usually about the money. But what if you could engineer a crowdfunding effort that uses a different sort of currency—the social media reach of those generous enough to lend their support to your book promotion? That's what programs like Thunderclap and HeadTalker aim to do.
For both programs, often called "crowdspeaking platforms," the system is pretty simple. Craft a "shareable" message that you would like to go out on social media. Invite people to support it. They do this by allowing the program to post the message on their behalf to their fans, friends, and followers – through Twitter, Facebook, LinkedIn, and Tumbler in the case of HeadTalker and Twitter, Facebook, and LinkedIn in the case of Thunderclap. If you get enough supporters to commit to your initiative (the "tipping" threshold differs by program), ALL the messages will be released at the same time on the same day, amplifying your reach. You will basically be glitter-bombing the interwebs with your message.
If you don't get enough supporters, the message will not go out. Buh-bye. Done.
A lot of people have been using these programs to draw attention to a cause or an event, like kitten rescue day in the park. Maybe using it to promote a book isn't as altruistic a cause, but it's a small leap to see how useful Thunderclap and HeadTalker could also be for a small, focused effort like a blog tour for your new release or a giveaway.
The advantages:
A lot of attention all at once. Just consider the math. Fifty friends share one message about your new book to their ninety-seven friends. That's…okay, I've never been very good at math. But that's a lot of eyeballs. It's also kind of impressive to look down your Twitter feed and see, oh, a zillion messages buzzing around about your promotion. And all the other people who might be seeing it and sharing it.
It's easy and free. At least the basic plans are, which are plenty adequate for what most of us will be doing this for.
The people who choose to support you can customize the message to suit their taste. So if you don't feel great about sending out the same message as everyone else, and want to give it your own twist, have at it!
The drawbacks:
The programs ask for some goodwill on behalf of your friends and followers. You might not feel comfortable asking for so many favors. Everyone's comfort level with asking for help is a little different.
Although the programs ASSURE the privacy of those who sign up, and ASSURE that the message will only be shared once, some people are a little hinky about giving an app permission to do anything. You can, however, revoke the app's access any time you'd like.
The overload factor. Again, this depends on your personal threshold for seeing ninety-seven notifications about your book every time you open Twitter. It's a lot of reach…but it's a lot of attention. I recently ran a Thunderclap and a HeadTalker for my new book's one-day book blog blitz, which included a Rafflecopter giveaway that went on for four days. That's…a lot of Tweets.
How to do it (this example was done using HeadTalker):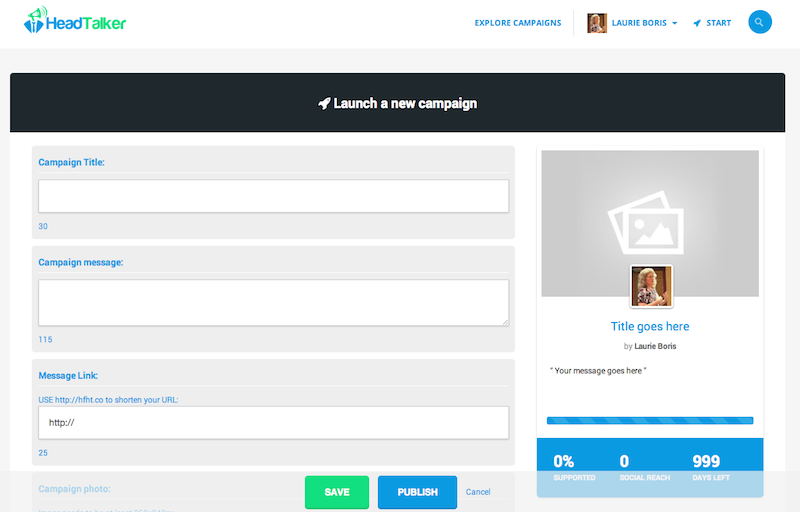 Go to headtalker.com and open an account.   (https://www.thunderclap.it/ for Thunderclap.)
Start a new campaign.
Give it a title.
Craft the main message you want people to share.
Add a photo, text, number of supporters you want to shoot for and by what date.
Save and submit for approval.
Promote it using your usual sources.
Watch the interwebs' glitter cannons explode.
Here's how your basic HeadTalker page will look: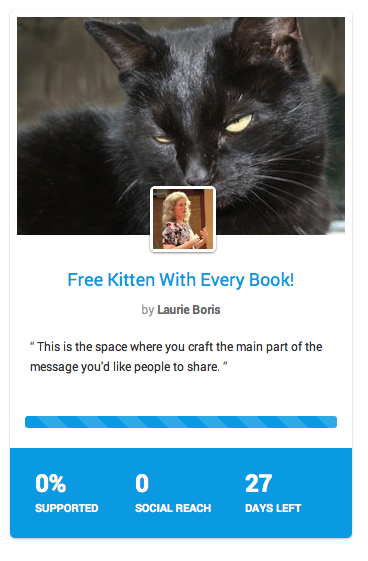 Conclusions
I just did this for a book release. (Here's how my Thunderclap page looked.)  It was fun and generated some excitement and some new friends and followers on social media. More people knew about my new book afterward than had before. I would definitely try this again, although maybe only for BIG events like a new book launch, since it's a lot to ask of my friends.
Have you ever tried anything like this? Participated in one? What did you like or not like about it?