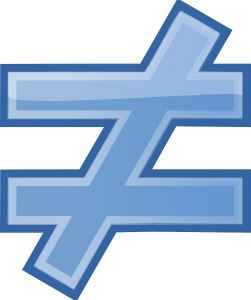 Disparity — defined as the lack of agreement between internal perceptions with external behavior. So what does that have to do with writing? Simply put, what we think about our writing is always different from the public's perception. There's a huge gap in what we see in our writing and what others see in it.
"So what, of course there's a huge difference."
Sometimes that difference can be bad, as the Evil Mastermind explored in this article about Misadventures in Wordcraft. Those are just little instances – sentences, phrases, awkward misplaced modifiers. Of course, then there are the big picture instances where you don't make your point at all.
That's right, what you say may be what you think you mean, but that might not be what comes across. Even experienced authors at times are just too close to their work to know these things (especially in book descriptions). And that causes little things called anxiety, insecurity, and a whole host of other feelings.
That's why we have beta readers, editors, and ARC readers. They will tell us when something doesn't make sense.
I know some authors who obsess over this. They question every single sentence they write. Can this be taken the wrong way? Does this make sense? Should I move the verb? The object? The adjective? The subject? Don't let the chance of disparity cause analysis paralysis.
You see, once you grasp disparity and the role it plays in your writing, you'll begin to see how it represses and inhibits your ability to let go. Everything changes at this moment. Just do your best and allow yourself to rely on the editors, beta, and ARC readers. This simple realization can liberate you and lead to more confidence and more energy for our work.
Our writing rides on energy. You know the feeling. You just wrote the killer scene or chapter, maybe you even found yourself crying as you saved the document. That's the feeling you strive for, that overwhelming feeling of immersion into our work, letting it all go. That's when we are most in tune with our audience.
If you're not confident in your writing, others will feel it. You truly have no idea how others will perceive your writing, so you need to let go and write for yourself.