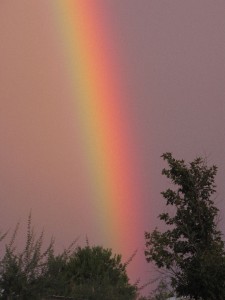 I got to thinking about why we writers write. Why we publish. I was actually watching golf. I know, most people would rather watch paint dry. Bear with me. Jim Furyk, a compatriot Arizona golfer, has played twenty tournaments this year, and has been in the top 25 a total of seventeen times. Ten of those times he's finished in the top 10, and he's had three 2nd place finishes, but he has not won at all this year. He's won a ton of money, yet I have a feeling that it all pales next to that big goose egg in the win column.
It got me to thinking: why do we write? What rewards to we get? The way I see it, there are three factors that can validate our writing and bring satisfaction to us.
1. We like what we write; we think it's good and we're happy with it.
2. Ordinary readers like it, which translates to good sales. (And when I say "ordinary," I mean that in no way as a slur; I'm simply talking about readers who do not review or critique in a professional way.)
3. Reviewers and/or critics like it.
I'm guessing that I speak for most writers when I say I write what I like and I don't publish unless I'm happy with it. However, I'm also guessing there may be some writers out there who use a different benchmark. I'm talking about those who crank out formula stories, who write "commercial fiction," and know it may not be the great American novel but also know there's a reader base for it. Using these very polarized positions (and I realize there have to be a zillion other points along the line in between), I set out to map the various formulas for validation and satisfaction.
The second piece of the equation is the reader. They like it or they don't. If they don't, the book does not sell and does not make money. If they do, the book does make money and we can hope the popularity spreads by word of mouth.
Third is the critic. If the critics and reviewers like it, that may translate to sales, but not necessarily. If they don't, it could impact sales, but again, not necessarily. Readers and critics are not always on the same page, and sometimes they are worlds apart.
So here are my (very simplistic) possibilities from the various combinations: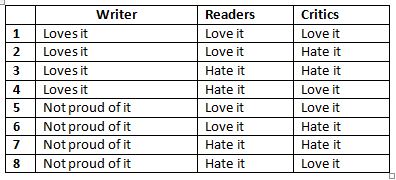 Now, I'm guessing (going out on a limb here) that the No. 1 scenario above is the optimal for every writer. Everyone loves the book; it's bought by the bucketload and it makes money. Good all around.
But what about No. 2 or No. 4? Do we care more about one than the other? Do we care at all? Is it more important that the readers like it or the critics? And what about No. 3? What happens when we love a book but no one else does? How do we feel about that?
The last four variations are trickier, I think. What happens if we put a book out there that we're not particularly proud of (maybe our publisher or contract demands it), but others think it's great? We don't like it, we know it's clichéd drivel, but the readers and/or critics eat it up. What does that do for our self-esteem? For our sense of who we are, our sense of ourselves as writers?
Truth be told, I doubt if any of us ponder these possibilities as we're writing and publishing. I think most of us are impelled by other forces. I would still write if I never sold a single book because I like what I write. I like the stories; I like the characters. Everything else is gravy to me. But once the book is out there, how does its reception color our feeling about it? Does it change the way we feel about it?
I asked myself these same questions, and was somewhat surprised by my own answers.
I have a couple of books that are my personal favorites. I love them. They're not big sellers. Do I care? No. I enjoy them and re-read them periodically. Every time I do, I am struck anew by how much I like them. The fact that they have never taken off in a big way is of no concern to me at all.
I have another book that is not my favorite. I like it, but it just doesn't knock my socks off. It's probably my biggest seller. Does that change the way I feel about it? Not a bit. I'm proud of it, I'm very grateful that it seems to connect with so many people, but it will never be the first book I reach for.
And of course I continue to write. Not to please readers. Not to please critics. First, last, and foremost to please myself and to resolve the stories and placate the characters that tumble around in my brain.
What about you? How does the way your book is received affect you … or not? From where do you draw your own validation and satisfaction? It'll be interesting to see the answers to why we write.