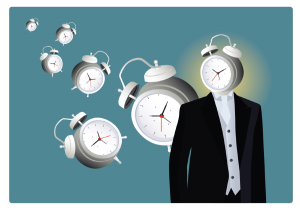 As writers we constantly deal with time, both as a concept and a reference point. We can write a whole novel about an hour in the life of a character, or we can cover billions of years in the same amount of pages. We can stretch a moment into a lifetime, go back in time, or forward; we can travel sideways (as in parallel realities) or into the depth of time (like a dream within a dream within a dream). In fact as writers we utilise and adapt every conceivable theory concerning time.
Truth is stranger than fiction
Time is relative, we are told, and just about everyone knows that; although not everyone understands it. If you ask the question, "What does 'time being relative' really mean?" It would of course depend on who you ask, but you are still likely to get a stock answer that may not be easy to understand. A physicist might theorise about the space-time continuum; some may even express concepts regarding the multiverse theory; whereas a philosopher might approach the subject from a totally different angle, postulating from a metaphysical or psychological standpoint.
Personally, I favour the theory put forward by Julian Barbour, a British physicist, author, and major proponent of the idea of timeless physics: 'There is no such thing as time,' he says. According to him, and some other leading physicists, it seems that everything that ever was or could have been and everything that ever will or could happen is all happening now! This theory seems to run in line with my personal philosophical beliefs concerning the spacious present.
As writers we have to deal with the way time appears to most readers: linear, fixed and predictable; unless that is we are writing in a sci-fi/fantasy, time-travelling genre. In a general way though, we stick pretty much to the accepted notion of time: a physical object (which could be you or me) has depth, width and height, but it also has forth measurement in order to have its existence in physical reality: time. So it could be said that we live in a four dimensional reality. In that four dimensional reality we use long established, traditional, time related analogies that, as writers and readers, we are familiar with; for instance regarding the different perceptions of the speed of time:
Time can drag or even crawl if you are enduring something you do not like
Time can fly or simply whizz by if you are doing something you love
Time can seemingly stand still in a moment of indecision
Time periods can completely disappear for various psychological reasons
In fact the amount of analogies we use seems endless and it is difficult to envision not having time, as a concept, a device, to add dimensions to our narrative:
In the nick of time: only just scraping through
Out of time: not enough
Short of time: running out of it
Behind time: running late…
Take your time: an abundance of…
No time like the present: act now…
Time poor: never enough…
Time of your life: really enjoying the moment…
Time of course affects authors in many ways and in my next post I will continue the subject of time and touch on how it relates to us in more personal ways; for instance, the way in which we learn and gain knowledge through the course of time, and the way we manage time.