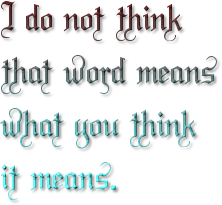 A few months ago, I was casting around my brain for a title for a music-related post on my blog, and came up with "Begging the Musical Question" – a play on the well-known phrase begging the question.
But something about the way I wanted to use the phrase nagged at me, so I looked up what it actually meant. I had thought the begging in begging the question meant something along the lines of "posing." Boy, was I wrong. Begging the question – according to my copy of Brewer's Dictionary of Phrase and Fable – is to "assume a proposition which, in reality, involves the conclusion" – in other words, to use circular logic. The entry in Brewer's provides this example: if you say that parallel lines will never meet because they are parallel, you've begged the question.
Grammar Girl says you can also beg the question if you make an if-then statement whose conclusion is faulty – for example, if you say chocolate is healthy because cacao, from which chocolate is made, is a plant.
However, she goes on to say that the phrase is being misused so often these days that at least one dictionary is including the misuse as a definition. Still, she advises us to say raising the question if that's what we mean – so that's what I did in my post.
Of course, begging the question is hardly the only phrase that's ever been used incorrectly. Another is throw (something) to the wolves. I've seen it used lately in relation to authors standing fearlessly before their critics. But that's not what it actually means. Brewer's defines it this way: "to sacrifice someone (a companion, colleague, subordinate), usually to divert criticism or opposition from the 'thrower'; to make someone the scapegoat." Think of hunters fleeing from a pack of hungry wolves – they might toss their latest kill (or their least favorite comrade) behind them in order to escape with their lives. These days, we may be more likely to use the phrase throw someone under the bus – although according to urbandictionary.com, that has an added malicious edge to it, as it implies that the person or thing being sacrificed doesn't deserve to be set up.
So how can you avoid using a common phrase the wrong way?
The most obvious method is to look it up. If you have a copy of Brewer's, or even a regular dictionary, you can often find a phrase by looking up one or another of the key words in that phrase. Brewer's has throw to the wolves listed under Wolf.
If you don't have a dictionary handy, you can run the phrase through your search engine and see what you get. Put quotes around the phrase you want to use and add the word "definition" or "usage" or "origin," and your results should be in the ballpark. I suspect I used "begging the question" and "definition" when I was researching the phrase for my blog post.
If you prefer the personal touch, you could call or stop by your local library and ask a librarian to look it up for you.
Alternately, you can avoid using such phrases in your writing altogether. Sometimes they skate dangerously close to cliché territory anyway. And if the choice is between using a hackneyed phrase incorrectly or rewording the sentence, why, using the phrase would be almost inconceivable.