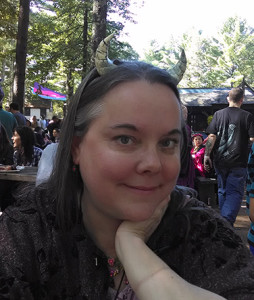 Guest Post
by Christine Frost
I confess — I'm a digital hoarder. Spending many years in the academic world and being a historical fiction author, I've collected a tremendous amount of research. Over the years, I've taken notes from countless books to ensure I'm accurately portraying the historical figures, cuisine, and cultures I'm portraying in my writing. It's easy to get swept up in taking notes. New ideas for the story come with each interesting detail.
There is a delicate balance in historical fiction. In order to be able to move comfortably within the realm of the story you're creating, the scale of research needed can be huge. The risk for writers is spooling out endless facts in prose just because there were dozens of fascinating details that were discovered in research. While working on my second novel, set in medieval Ireland, I happened to find a book describing everyday life in rural areas. Soot houses dotting the Irish landscape may provide just the right touch of authenticity, but an expository paragraph on their construction and functionality bogs down the narrative and removes the reader from the story.
Open Access and the DASH Project
In recent years, the ability to find free, high quality resources online has been an amazing boon. The Open Access movement began as a means to make academic papers and peer-reviewed articles openly available. It's changing the way academic research is being managed, and has given unprecedented access to the knowledge gathered in universities around the world. And this can be a great benefit for writers.
Harvard has played a key role in making its research freely available through the DASH Project, which launched in 2009. Their model for Open Access has been used by many other universities. To date, 4.1 million works have been downloaded from DASH in 234 countries. They encourage testimonials to show how the resources they share have benefitted people. The last week of each October is now celebrated as International Open Access Week. It feels like a knowledge revolution.
An Author's Ultimate Resource
How has Open Access helped me as an author? I love to study the Ancient Near East. Reliable resources that cover Mesopotamia's history thoroughly have been frustratingly far and few between. A couple of years ago, I attended a day-long conference at Harvard about Mesopotamian cities. My conversations with professors revealed that the history books published in the mid-twentieth century that I bought in book stores were not highly regarded. The books were loaded with inaccuracies, and the credibility of my stories was at risk.
Through DASH, I now have access to new research done by faculty and students at Harvard, among many other institutions as more universities adopt the Open Access model. Satellite photos taken during the Cold War revealed ancient trade routes that were previously unknown, and papers on what people farmed in Mesopotamia were easy to find. The world I write about now feels much more authentic and complete.
Free research materials go beyond the DASH model. The Digital Public Library of America was created after a conference on the history of publishing at Radcliffe in 2010. It hosts more than 8 million sources online from museums, libraries, and archives. Covering many aspects of history, from Prohibition to social movements in the US, it serves as an amazing resource, and authors can find a wealth of information to help develop their works. Additionally, OpenCulture.com has films, audio files, courses, books, and more archived online. While writing a short story about Mesopotamia for a literary journal, I listened to a professor read the Epic of Gilgamesh in the original Akkadian language. It was inspirational, and helped me infuse the story with a bit more atmosphere that I may not have otherwise been able to include.
This isn't all about historical fiction. Writing a novel about a frustrated clinician who spends too much time in the lab? You can find great medical research that may help the clinician's big breakthrough. Writing a thriller involving international schemes? Papers on political science may be just the thing to make it more realistic. New research on social sciences, technology, and beyond is available for writers of any genre and style. If you add anything to your writer's toolbox, bookmark these sites and seek out Open Access sources. You'll never know what novel-changing inspiration you'll find.
---
Christine Frost is the author of three novels and several published short stories. She has a master's of literature and creative writing from Harvard Extension School and serves on the board of the Independent Publishers of New England. You can learn more about Christine on her Author Central page and her blog, where she runs a series called "How Do They Feast?" to explore how food and cooking is portrayed in fiction.