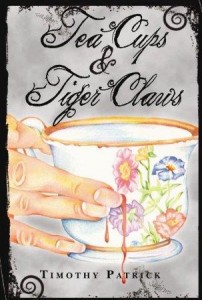 Tea Cups and Tiger Claws
by Timothy Patrick
4.0 average rating from 315 reviews
447 pages
First comes the miracle and then comes the madness. The miracle is the birth of identical triplets, and the madness is all about money, of course. The year is 1916 and the newborn baby girls have become pint-size celebrities. Unfortunately, this small portion of fame soon leads to a much larger portion of greed, and the triplets are split up—parceled out to the highest bidders. Two of the girls go to live in a hilltop mansion. The third girl isn't so lucky. She ends up with a shady family that lives in an abandoned work camp. That's how their lives begin: two on top, one on the bottom, and all three in the same small town. And when their worlds collide, as they must, the consequences are extreme.
Tea Cups and Tiger Claws is available from Amazon, Smashwords, and Amazon UK.
Excerpt from Tea Cups and Tiger Claws by Timothy Patrick Continue reading "Saturday Book Showcase: Tea Cups & Tiger Claws"