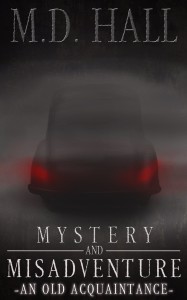 Mystery and Misadventure – An Old Acquaintance
by M.D. Hall
Genres: suspense, psychological thriller
Available from Amazon.com and Amazon UK
Samuel Prite introduces you to thirteen tales of ghostly encounters, supernatural events and rather unfortunate happenings. As he leads you along this meandering path, it will become clear that Prite is not merely a guide, but someone, or something, far more sinister.
Book Excerpt:
from The Wine Cellar

Several minutes later, he still had not reached the end of the corridor. This is insane, he thought. It's no more than ten yards to the wall. The light remained the same size but now became clearer; it was the illuminated part of a doorbell. He reached out and pressed the brass button in the centre of the light.

Footsteps sounded beyond the light … they stopped … the sound of a handle turning … a crack of light appearing, and edging a doorway … then the door opened. Framed in a soft, golden light stood a man. It was impossible to make out any details as the backlight cast a shadow.

'Sebastian, I've been expecting you. Please, do come in.' The voice was mellow and clear.
What others are saying:
"MD Hall writes tales of mystery that are inventive and imaginative, tales that have unexpected twists and spooky atmospheres." – RichardS, Amazon Reviewer