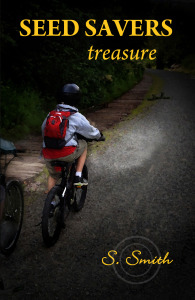 Two kids, two bikes, and an idea they can change their world.
It's 2077. There's no apocalypse, but some things are different. Things like the weather, the internet, and food. In twelve-year-old Clare's world, blueberry is just a flavor and apples are found only in fairy tales. Then one day Clare meets an old woman who teaches her about seeds and real food, despite the fact that it's illegal.
Can the children learn enough before being stopped by GRIM, the government agency controlling the nation's food?
And can they, only children, help change the world?
Seed Savers: Treasure, the middle grade science fiction book by S. Smith, is available on Amazon.com, Smashwords, and Amazon UK.

Don't forget, you can cast your vote for trailer of the month on November 29, 2014 at 1 p.m. Pacific time.