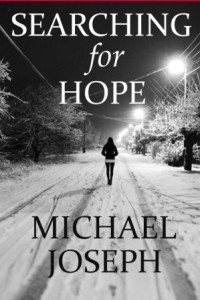 Searching for Hope
by Michael Joseph
Genre: Mystery
58,000 words
On a bitter January night, private detective Sam Carlisle steps out of a nightclub and stumbles across a severely wounded man prostrate on the freezing ground. Despite Sam's efforts to save him, the stranger dies in his arms, uttering three small words before taking his final breath.
Help. Me. Find.
In the days that follow, the tragic encounter plays increasingly on Sam's mind. Who was the victim? What was he trying to find? With the police investigation drawing a total blank, Sam searches for the truth himself, determined to carry out the dead man's cryptic final request. However, following in the footsteps of a murdered man brings plenty of danger of its own.
Searching For Hope is the latest mystery featuring former undercover cop Sam Carlisle as he finds himself drawn into a perilous world of unscrupulous characters, dark secrets and a family torn apart by tragedy and betrayal.
Searching for Hope is available from Amazon.com and Amazon UK.
Michael, how did you come up with the title for your book? Does it have any special meaning?
I wanted a title that had dual meaning and I think Searching For Hope complements the storyline perfectly.
Who was your favorite character and why?
Sam Carlisle is the lead character in all my books. His history has a left him with a ruthless streak that reveals itself when necessary but he is a man with a good heart and a dry sense of humour. I enjoy building my stories around him.
Does your book have any underlying theme, message, or moral?
I like to think the story reflects loyalty and friendship.
What would/could a reader or reviewer say about this book that shows they "get" you as an author?
My intention was to write a pacy novel that incorporates twists and turns, humour and a surprise ending. Any of those elements mentioned in a review would work.
Give us an excerpted quote from your favorite review of this book:
"A storyline that rocketed along, a hero with rough edges and a nice little twist at the end."
Where can people learn more about your writing?
http://www.amazon.com/Michael-Joseph/e/B00BXEUSFY/