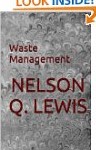 Why should you consider writing under a pen name?
When I was growing up I was very girly. Ballet, piano lessons, Barbie dolls — these are the fluffy memories of my youth. I also loved the TV show Chiller Theatre, and I spent many happy Saturday nights watching horror cult classics with my older brother. These gems are quite different from the modern slasher movie. The classic horror plot includes elements of the fantastic, the paranormal, and the magical. Many films included a psychological theme of undiagnosed insanity and paranoia. The stark objectivity of black and white cinematography heightened the fear factor. I truly love these films.
I am sure my readers would be surprised to know I have written a piece of fiction that could be categorized as dystopian horror. When I finished with the first draft I was morbidly excited by its darkness and cruelty, but confused as to what to do with it. The author brand I have been working to develop for years is juxtaposed to this story, and I felt it would send a mixed message if I put this on the same author page with stylish, sexy mysteries and tango dancing vampires. Consequently, I put the draft to the side last year and let it brood in its petri dish of cold-hearted carnage.
I never forgot about it. Thankfully, I downloaded How to Market a Book by Joanna Penn. In this little jewel of a book, Joanna answered the question that nagged me and provided the elegant solution. I needed a pseudonym to publish this story and keep it separate from my other author brand, L.A. Lewandowski. I now had a reason to put the finishing touches on the story and publish it. I decided to take Joanna's idea further and create an alter-ego.
I accept that there are established authors who feel it shows literary range to span genres. This might be true if one was writing within genres that flow together. The damage to a developing brand would occur if a children's author posted a piece of sultry erotica on their Amazon author page next to a series of adventures of a pack of impish pink poodles. Joanna convinced me that I needed to do the research to establish another brand that would enable me to publish horror stories.
The use of a pen name is not new. Mark Twain, George Elliott, Lewis Carroll, Mary Westmacott, Mrs. Silence Dogood — the list goes on. Agatha Christie, aka Mary Westmacott, wrote romance novels and kept that work separate from the locked room murder mystery brand she was famous for. She knew that she was the queen of her genre, and she kept any competing messages away from her readers.
How does one pick a pseudonym? I played with a few combinations of names that were close to my own, inverted them, and for fun added an odd letter in the middle. Then, I Googled it. No one appeared in the search with my fake name, so I was good to go.
Although Amazon allows its authors to have up to three pseudonyms you will only have one KDP profile. It is accessed from the e-mail you used to set-up your original account. On your bookshelf will be all your books, even those with pseudonyms. Your reports will show all sales, including those of your pseudonym. This keeps all the data neat and tidy and allows Amazon to disperse your payments more efficiently. One W-2 form is generated from all this sales activity for taxes.
For the purpose of this tutorial I accessed KDP Select and began the process of publishing a book. I had a title I liked already and a preface I could use right away. Under book contributors I clicked Add contributors and entered pseudonym as the author. (Click on the photo below to enlarge.)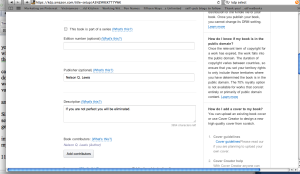 I didn't have a cover so I decided to jump into the fire and launch the cover creator for the first time. It was very easy to use, and for simplicity I chose to go with an art paper background. I played with the layout until I found one that achieved a look that was stark.
Once you have entered your file, checked it, and done all the pricing and distribution stuff, you can go ahead and publish your book. It will take approximately twelve hours for it to go through Amazon's checkpoints.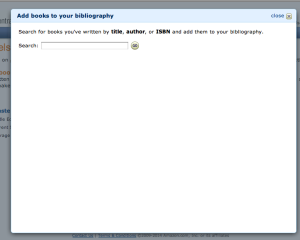 Amazon's policy is that you cannot have an author central page unless you are published. I think this is a good rule. Once you have been notified that your book is published you may claim it. Go to Author Central and enter the title, author name, or ASIN in the box as shown at right. (New to Author Central? This article will tell you everything you need to know.)
A group of books will show up, and you will need to scroll until you have found your book. Click on the box that says This is my book.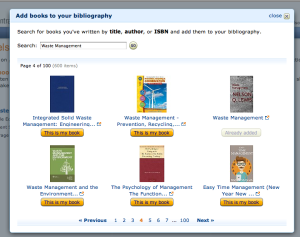 It will say there is one author with that name and ask if this is you. You can answer yes, and another screen will come up: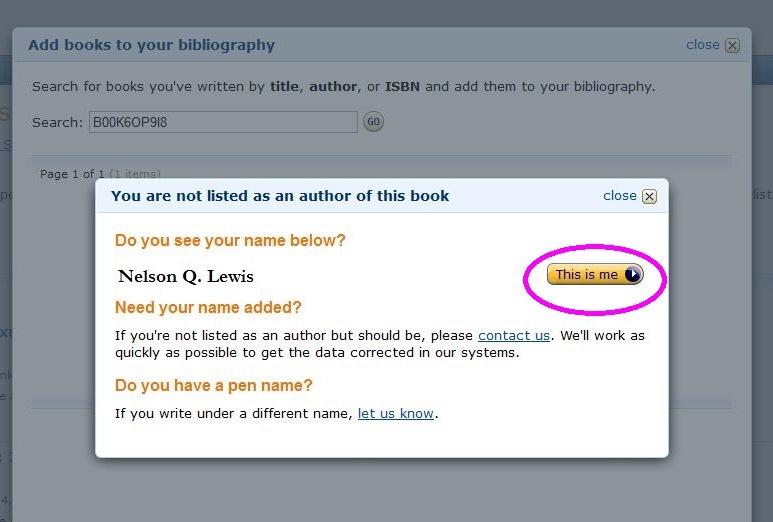 You can click "This is me" and you'll get: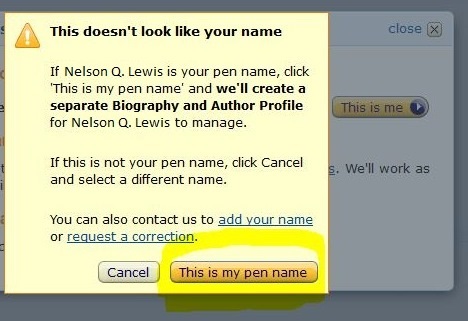 Click This is my pen name. You'll get another screen with a header as you see below showing a bunch of books. Click on the "this is my book" button to the right of the book you want.

Amazon will then tell you that there is one author listed for that book, and will show you the author's name. Click "This is me."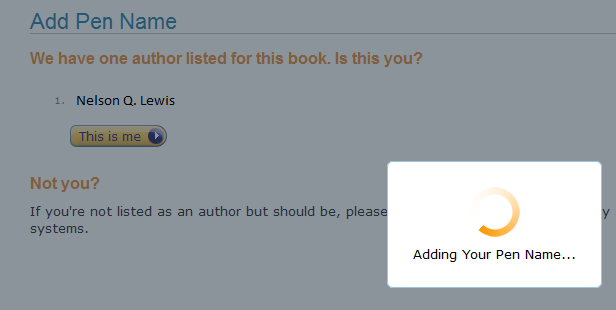 You will then be sent to Author Central. You will see that you can create an intriguing biography for your new pseudonym. If you want to switch back and forth between pen names, look up to the top right. There is a drop down arrow that will allow you to do this.

Fill in your bio and post a photo if you want. Here is the Author central page for my pseudonym: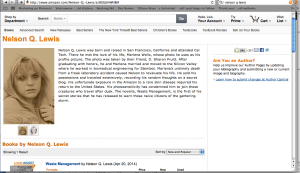 It takes a day for Amazon to get the new Author Central page set up and to place your book on it.
The fear of damaging my other developing brand evaporated as I created a place to expand my creative horizons. It took a bit of time, but it was fun. Two days after I completed my author page someone bought the preface. If you are that person, please contact me so I can send you a free copy of the book. Thanks for supporting my marketing experiment. Stay tuned for more from horror author Nelson Q. Lewis.