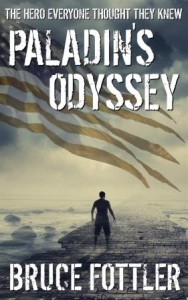 Paladin's Odyssey
by Bruce Fottler
Genres: Science fiction/post-apocalyptic thriller
227 pages
Joseph Paladin is a national hero everyone thought they knew – a former major in the United States Army, retired colonel in the Maine Republic Militia, and considered one of the key founders of the New American Confederation. His legendary odyssey to reunify a fractured nation in the aftermath of the great flu pandemic is a household story. In his long awaited memoir, Paladin shares untold stories of his past, including a shocking secret that he's harbored for decades. Is he really someone who should be held in such high esteem?
Paladin's Odyssey is available on Amazon.com and Amazon UK.
Exclusive excerpt from Paladin's Odyssey by Bruce Fottler Continue reading "Sunday Book Showcase: Paladin's Odyssey"