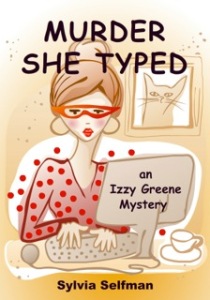 Murder She Typed
by Sylvia Selfman
Genre: Cozy Mystery
203 pages
4.2 stars on 137 reviews
Izzy Greene, a widow of a certain age, joins a writing group in an attempt to actually finish one of her stories. She gets more than she bargained for, however, when her nemesis, sexy blonde bombshell Sondra Sockerman, disappears under suspicious circumstances. Izzy soon realizes that she has a natural detecting ability as she and her friend, Flo, set out to find the killer…who is now after them.
Murder She Typed is available at Amazon.com and Amazon UK.
Exclusive excerpt from Murder She Typed by Sylvia Selfman