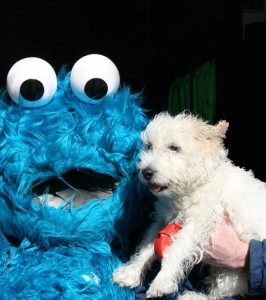 The toll of war is not always measured in the spilling of blood. There are struggles that embody something beyond nationalism and petty politics. They strike at the very foundation of civilization, the very meaning of life itself.
This war, however, began with a dispute over a snickerdoodle. Oh, if only there had been a pan of brownies instead. Brownies just make everything simpler.
The combatants were a very famous and well-loved little white terrier and an obscure mop-like character from a little-known children's television show. One snickerdoodle – two mouths. Oh, the humanity!
Welcome to the Indies Unlimited Flash Fiction Challenge. In 250 words or less, write a story incorporating the elements in the picture and the written prompt above. Do not include the prompt in your entry. The 250 word limit will be strictly enforced.
Please keep language and subject matter to a PG-13 level.
Use the comment section below to submit your entry. Entries will be accepted until Tuesday at 5:00 PM Pacific Time. No political or religious entries, please.
On Tuesday night, judges will select the strongest entries, and on Wednesday afternoon, we will open voting to the public with an online poll so they may choose the winner. Voting will be open until 5:00 PM Thursday.
On Friday afternoon, the winner will be recognized as we post the winning entry along with the picture as a feature. Then, at year end, the winners will be featured in an anthology like this one. Best of luck to you all in your writing!
Entries only in the comment section. Other comments will be deleted. See HERE for additional information and terms. Please note the rule changes for 2015.