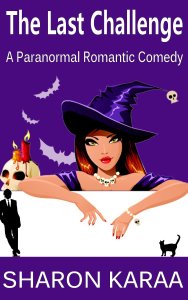 The Last Challenge
by Sharon Karaa
Genres: paranormal romantic comedy
Available from Amazon.com and Amazon UK
Lauren Rutherford, the last descendant of the witch, Matthew Bulmer, stands alone to face a challenge to the death by three damned souls. Well. Almost alone. Agnes, her long dead ancestor, and the amazingly sexy male witch Daniel are here to help. Will they succeed and end the curse forever?
Book Excerpt:
"Ahh, you missed me, Lauren?" Satan sniggered, and I felt the familiar tug of attraction at his handsome features, naked chest and bulging loin cloth.

I started to chant, and this time, he changed in front of me, his glamour fading and leaving behind a four-foot-eight balding man with a thin frame. He was so thin and small, the loin cloth now looked like an oversized nappy.

I couldn't help it. I laughed. Natalia smiled. Agnes, standing outside the immediate eyesight of Satan, waved her hand back and forth, shook her head and mouthed "No!" at us. I realised she was trying to warn us off and I looked quickly back at Satan. He growled and then looked down at himself.

"Awe damn it," he said, sighing. "All right, you've got me," he muttered, jumping down from the throne and almost losing his loin cloth in the process.
What others are saying:
"Every character has their own lovable quirks and just about jump right off the page with such brilliant personalities." – Sky, Amazon Reviewer