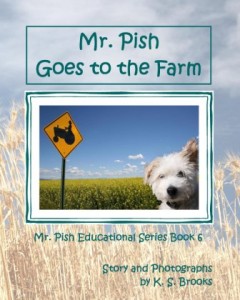 Mr. Pish Goes to the Farm
by K.S. Brooks
KidLit, Children's books, educational
Available from Amazon.com and Amazon UK.
The lovable Jack Russell Terrier is back, this time taking us on a personally guided tour to show us what goes on at a farm. From playing with a cute lamb to driving a big swathing machine, Mr. Pish explores it all in Mr. Pish Goes to the Farm. There is also a fun and educational app available for Apple products and it's free in the Google Play store for Droid products!