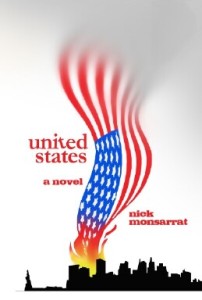 United States
by Nick Monsarrat
Genres: Political Thriller
Available at Amazon, Amazon UK, and most major online bookstores.
In 2038, a powerful consortium of corrupt corporate and political leaders secretly conspires to hijack New York City from its citizens. Only a handful of the city's elite dares resist, joining forces with New York State's courageous female governor and a cadre of ordinary citizens to expose and fight the conspiracy.
.
Excerpt
Cecil's taxi swerved onto 42nd Street in a downpour, then turned into the curb at New Media Tower. Cecil paid her fare and raced under the canopy of the entrance. Just below the rain clouds, a biplane banked low, then began a slow climb back skyward. It was clearly visible from where she stood, trailing a banner that read "Be alert! Report!" She took out a sketch pad and noted the toll-free number it included, fodder for the new public mural she was planning for a blank wall she'd spotted near the Whitney. Her purse slipped from her shoulder, and she stooped to retrieve it. From directly behind her came a loud pop, like a cap pistol going off. A beat more and a deafening explosion rocked the block. In the instant it took for the shock wave to strike her, she felt herself pitching face down onto the concrete apron of the entrance.
What others are saying:
"By incorporating a number of current hot-button issues–unbridled corporate greed and rampant social injustice…Nicholas Monsarrat has written not only a fast-paced story but one which depicts an alarming possibility for the future of our society." – Roger A. Hamstreet, Amazon Reviewer