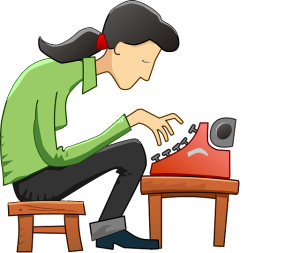 In my last post I said I was going to milk this survey for as many posts as I could. Maybe we should start a pool on what that number will be. The first post has some disclaimers, cautioning against reading too much into a survey such as this (click here to refresh your memory). I also discussed the overall costs the respondents reported incurring in the production of their most recent self published book. Using the same method as I discussed then (assuming the actual cost to be the midpoint of the dollar range chosen on the survey), I've drilled down on each of the potential production steps to explore the costs using various possible methods. This post will cover two: Content editing and creation of the book cover.
Prior to evaluating the results, my expectation was that I'd find a large percentage of authors would hire someone to make their cover while a small percentage would hire content editors. This assumption was based on anecdotal evidence, my guess of percentages based on those authors whose process I'm familiar with, and what I see touted as common wisdom. (How many have seen or received advice saying, "if you don't spend money on anything else to get your book out, at least hire someone to design a good cover?") While more people did hire a professional for cover design than for content editing, the spread between the two turned out to be slightly smaller than I anticipated.
Cover Design
There were four choices given for how an author accomplished creation of their cover. I'll list each from cheapest to most expensive.
The cheapest route, at least in dollars, is to trade or barter. It has no cost, but has the downside of requiring you find someone you're confident has the required skills who also has a need for a skill you can offer. Only 4 people reported using this method to get their latest book cover created.
Much more popular was going it alone with the author creating their own book cover. A surprisingly (to me) large number took this route, with 34 out of the 89 responses using this approach. While some of these reported their cover didn't cost a cent, many of them still incurred costs, some reporting expenses as high as the $250-$500 range.  The obvious cost someone would have is a fee to license the use of photos or artwork, although there may be other potential costs, possibly software to manipulate images or licensing of proprietary fonts. The average cost for those using the DIY approach was around $30.
A slightly more expensive and much less popular method was to buy a ready-made cover, with the author possibly making a few minor tweaks on their own. Only 4 people picked this option with an average cost of about $50.
On average, the most expensive option is hiring a cover designer or graphic arts professional. Some reported paying less than $10 (Fiverr comes to mind) while others spent more than $1,000. Two thirds paid in the $100-250 or $250-$500 range. 47 respondents had it done with an average cost of $275 with close to 70% spending less than the average.
Breaking this down another way, 57% "got a professional" either by paying or bartering while 43% did the job on their own. (It could be argued that the 4 who reported using a ready-made cover should be included in the got a professional category which would raise that category to 62%.)
Content Editing
As a memory refresher, this is how I defined content editing in the original survey post:
A content editor is a paid professional, although that pay might be accomplished using an exchange or trade of services. A content edit (sometimes called a substantive edit) often serves the same purpose and provides feedback on the same kind of things as an alpha reader. An author who uses both an alpha reader and a content editor would do so to shake out any issues raised by the alpha reader in order to minimize the cost of the content editor (plus the obvious benefit of getting multiple perspectives). A content editor is also more likely to provide ideas for fixing issues found than an alpha reader would be able.
Among the respondents, 7 said their book didn't receive content editing, although a couple of these used beta readers prior to editing by any outside party, so unless the beta readers used by these authors wouldn't report high-level issues or the authors would ignore them, these should possibly have been reported in the next category.
43% of the respondents reported using beta readers to shake out any high-level issues rather than using a professional editor. For those who feel that I have a bias against authors trying to keep their costs down, this is one area where they couldn't be more wrong. This is an approach I'd recommend, assuming an author puts together a good beta reading team. Seeing the feedback from a few professional content edits hasn't changed my mind. We'll see how many editors I rile up with this comment.
Some authors reported that while no one was specifically responsible for content editing, their copy editor would give them feedback if he or she spotted any higher level problems.
Last, 9 respondents reported trading or bartering for the services of a content editor while 27 hired someone for this task. These two "got a professional" categories make up 40% of the total which as I said earlier was higher than I expected. For those paying for the service, costs ranged from under $200 to more than $1,000 (6 of the 27), one significantly more. Most were between these two extremes with the average cost coming out just shy of $800.
What's Next
In the next post I'll explore copy editing and proofreading, both how you've said you accomplish this and what the reported costs are for each. If I'm able to resist my tendency towards verbosity (something I wouldn't depend on since I'm milking this survey for as many posts as I can) I'll also get into formatting and other costs. Plus there are a few other questions that might have some interesting results I can report on or spin wild, unsubstantiated theories about. (How many of your fellow authors seem to be happy with what they've accomplished, for one.)