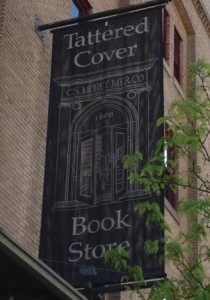 Not so long ago, when a reader wanted to get a new book, they would head on down to their local independent bookstore. Then came big-box bookstores like Borders and Barnes & Noble, and local bookstores took a beating. Many of them lost out so badly that they had to close. Now it's the big-box stores that are struggling (full disclosure: I still miss Borders), and the field is ripe once again for indie bookstores — particularly those that cater to local readers.
One of those is the Tattered Cover in Denver, Colorado, which has been in business since 1971. It's now a local chain with several stores, including locations at Union Station and Denver International Airport. It has stayed in business by offering great customer service, an interesting selection of books, and, through its Rocky Mountain Authors program, shelf space for local authors. And since 2011, it has offered print-on-demand services through its Tattered Cover Press.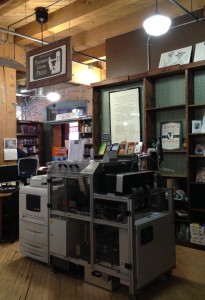 The press uses an Espresso Book Machine to print, bind, and trim each copy of your paperback book. The covers come out in full color, just as they do with CreateSpace or Lulu. All you have to do is provide Tattered Cover with two pdf files — one for your interior, trimmed to the size of your finished book, and one for your cover. Best of all for indies looking for bookstore shelf space, Tattered Cover will accept books from its press on consignment, providing your book meets the requirements for the consignment program.
Package prices range from $35 to $299. If your files are ready to go, you don't intend to place your book in any store, and you don't want a proof copy (or are willing to pay extra for each proof), $35 is all you pay. The top-of-the-line — and most popular — package includes a half-hour with an expert who reviews your files, one free proof copy, one free revision upload, the consignment fee for placement in their stores, an ISBN (which you will need even if you have a CreateSpace version, as this would be considered a separate edition of your book), and copyright registration with the Library of Congress.
With every package, there is also a per-book printing cost. The brochure gives the cost for one copy of a 250-page book as $10 — $7 for the first 100 pages, and two cents per page for each additional page. So your retail price per book would obviously have to be higher than that. And when you set your price, don't forget that the bookstore will keep a percentage over and above the consignment fee for each book sold.
Judy Spoering, the Digital Press Manager at Tattered Cover Press, said she gets four or five inquiries per week, although not everyone who inquires decides to go ahead. She also said that just because you created a pdf for either CreateSpace or Lulu doesn't mean that file will work for Tattered Cover Press — the Espresso Book Machine has slightly different requirements. All of those are listed on their website. Or you can email Judy for more information at the address provided on that POD page.
Thinking of going the cheap route, but interested in consignment? Pay special attention to your cover. Your barcode needs to have the retail price embedded in it, and your cover must have your book title and author name on the spine. The cover requirements are also listed on the website. The page for the consignments program is http://www.tatteredcover.com/local-authors.
Other local bookstores around the country have also installed Espresso Book Machines. If you're dying to see your book on a bookstore shelf, check with your local independent bookstore to see whether they have a program like Tattered Cover Press. It could be your ticket into brick-and-mortar sales.