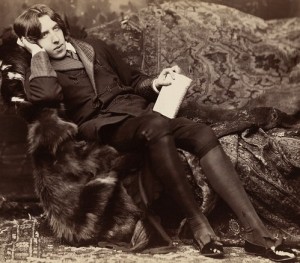 While he was in prison, Oscar Wilde wrote De Profundis, a lesser-known work. I say "work" because it was 50,000 emotionally charged words written under abhorrent conditions over a three-month period. Unlike The Importance of Being Earnest, one of the most successful plays of all time, or his remarkable novel, The Picture of Dorian Gray, this work was not written for commercial purposes.
Rather, De Profundis was a letter Wilde wrote, while incarcerated in Reading Gaol prison, to his lover Lord Alfred Douglas, a/k/a Bosie. The nickname probably came from Douglas's mother, who called him "boysie," even though Bosie is pronounced differently. Bosie was the third son of the 9th Marquess of Queensberry. The Marquess was enraged over Bosie's relationship with Wilde and demanded an end to it. When Bosie refused to stop seeing Wilde, the Marquess focused all of his rage upon the famous poet and playwright. He left a note at a club frequented by Wilde that read, "To Oscar Wilde, posing as a somdomite [sic.]" Bosie, equally enraged with his father, insisted that Wilde file suit for libel even though every friend Wilde had, and indeed Wilde himself, knew better than attempt to win a fight with the powerful Marquess. Inexplicably never able to refuse Bosie, Wilde testified that the Marquess' allegations were completely false. When told during trial that the Marquess had rounded up a parade of young men to testify as former lovers, Wilde withdrew the suit. The men, by the way, were from Bosie's preferred lower-class world of London homosexuals.
The Marquess immediately furnished copies of the men's statements to the Director of Public Prosecutions. The next day the Crown arrested Wilde on the charge of gross indecency, a serious offense generally known as sexual relations with a same sex partner. It's possible the Marquess demanded that Prime Minister Rosebery prosecute Wilde to the fullest extent of the law. It seems that the Marquess had leverage against Rosebery; a few years earlier, there had been rumors of a homosexual affair between Rosebery (Foreign Minister at the time) and the Marquess' eldest son, who had served as Rosebery's personal secretary. (The eldest son was believed to have committed suicide, or he may have "suffered a hunting accident," as it was first reported.) The Marquess blamed Rosebery for corrupting the morals of his sons. Ultimately, Oscar Wilde was vigorously prosecuted at a time when such things were generally ignored in the upper classes. He was found guilty, and sentenced to two years of hard labor.
De Profundis (Latin for "from the depths") was indeed written from the depths. Wilde's incarceration was not only the low point of his life, but also led to the end of his career, the loss of his health, and the loss of his possessions including all of his plays and poems. "From the depths" also referred to Reading Gaol prison itself, where he did unaccustomed hard labor, subsisted on an unusually poor diet for someone of his class, and was not allowed to speak to other prisoners.
Most notably, it is clear that De Profundis was written from the depths of Wilde's soul, in all its bitterness, and later with profound understanding. It was the gut-wrenching outpouring from the depths of a broken heart, written to a man incapable of loving anyone but himself. Bosie was a self-centered, manipulative man who relished the attention he received from standing in the shade of Oscar Wilde's talent and fame. To call attention to himself, he delighted in embarrassing Wilde by creating public scenes, knowing that Wilde would do anything to appease him. De Profundis is a letter filled with self-recriminations that ultimately put Wilde on a path to redemption.
For those who are writers, try to imagine the circumstances under which De Profundis was written. Near the end of his final year in prison, Wilde was at last allowed the use of paper, ink, and pen. A rule was imposed that whatever he wrote during the day would be confiscated every night, and nothing he wrote would be returned to him until the day of his release. He was therefore unable to review, much less edit, what he'd written. He wrote the document over a three-month period; he was in such poor health that he never recovered. Wilde was released from prison in 1897. He never edited De Profundis. He died three years later at the age of 46, a broken, penniless man.
The first version was published five years after Wilde's death by his executor, Robert Ross (a former lover) who omitted parts that were deemed inadvisable at the time, such as references to the Queensberry family. There are conflicting reports as to whether Bosie ever saw it.
If you'd like to read this remarkable document, I recommend De Profundis, currently $1.99 on Kindle. NOTE: This is from Dover Thrift Editions, and is the full version, which begins, "Dear Bosie, …" Many other De Profundis books, purported to be complete editions, are actually the partial versions that exclude any reference to the Queensberry family. The partial versions begin, "Suffering is one…" or "My place would be…"
To learn more about Wilde, I highly recommend Richard Ellmann's Pulitzer Prize winning biography, Oscar Wilde.