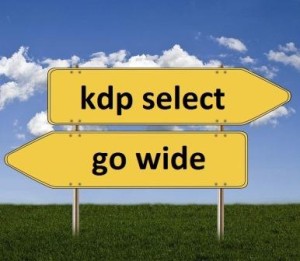 If you are a first time author, chances are good that the first place you will go to upload your masterpiece is Amazon's Kindle Direct Publishing. It is the largest seller of eBooks worldwide, after all, so that's an easy call. Once there, one of the first choices you will have to make is whether or not to enroll your book into KDP Select.
Here's the basic breakdown. If you enroll your book in Select, you cannot publish the eBook with any of the other sites (Smashwords, Kobo, iBooks, etc.) for 90 days, although you are free to publish the paperback anywhere. At the end of 90 days, you can decide if you want to stay in Select, or "go wide," and publish everywhere.
Why would anyone choose to only publish on one platform, when they could instead publish on many? Because Amazon gives you special tools in exchange for your exclusivity. During each 90-day enrollment in Select, you can either have five days to offer your book for free, or one seven-day "Kindle Countdown," which allows you to sell your book for as little as $.99, while still retaining the 70% royalty rate, which would typically be 35% for books priced under $2.99. Enrolling in Select will also make you eligible for Amazon's Kindle Unlimited program, where readers pay $9.99 per month and can read as many KU-enrolled books as they would like. The last reported payout to authors for KU was .0041 per page, or under half a cent per page read.
The "Select vs. Wide" question is hotly debated in writers' groups across the Internet. I have read literally thousands of arguments both pro and con. For some people, the very idea of granting anyone exclusivity to sell their books rankles and angers them. If you fall into this camp, my advice is: don't enroll in Select. You probably won't be happy, and you will find many more reasons to be unhappy during your 90-day enrollment.
Some people use Select simply because it is easiest. Upload your file and cover in one spot and you're done! When you are wide, you either have to upload directly to many different sites, or use an aggregator like Smashwords or Draft2Digital, who will also take a small cut of your commissions. When you have half a dozen or more books out and you publish a new one, going through and adding the new book to the back matter of all your previous books on all those other sites can be both daunting and a time suck.
Personally, I am enrolled in Select because I have chosen to use the tools to make my books more visible on the world's largest bookseller, rather than having a wider reach with slightly less visibility. I use both Free and Kindle Countdowns consistently.
Quickly, a note about Free: It's not what it used to be (pre-April, 2013), but it's certainly not useless, either. It no longer results in the huge surge of sales when you go back to paid that it once did, but it is a valuable tool for building your mailing list, Facebook page, and garnering reviews. People often ask me how I've managed to get so many reviews on my two memoirs (approx. 1250 reviews between the two of them) and the answer is that I have done many free runs on them and they have been downloaded over 250,000 times.
Kindle Unlimited has gone through a number of changes, with the most substantial coming last summer, when they switched from counting "borrows" to counting "page reads." This was designed to weed out the phony little "scamphlets" that some authors were putting up just to generate KU borrows. Many authors threatened to leave KU because the per page payout has slipped dramatically since the new KU launched, but I notice that the number of books enrolled in KU has gone up every single month.
Another thing to consider is, if you look at the Bestseller lists on Amazon, a high percentage of the books on the list are enrolled in Select. That is partially because every time someone borrows your book through KU, you get a boost in the ranking, and thus, visibility.
The downside to being in Select, of course, is that all your eggs are in Amazon's basket. If that is a negative thing to you as a publisher, my advice again is to go wide.
One thing to remember, though, is that enrollment in Select is only for 90 days at a time. If I was a new author today, I would enroll upon publication, then make a decision three months down the road as to whether it is working for me or not. One piece of advice, though: It doesn't matter whether you are in Select, or widely distributed, if you don't market and promote your book – it will almost certainly sink in the rankings. Simply being in Select (and simply making it Free for a few days) will not cause people to download your book. You'll need to promote it – on your website, blog, Facebook page, Instagram, or Twitter feed, and pay the book promo sites to advertise it for you. If you just hit publish and wait for the readers to find you, it can be a very long wait.