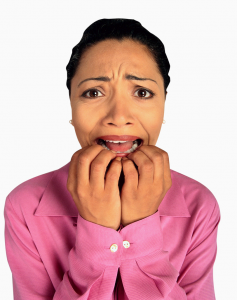 I was once there: afraid to buy book advertising. I almost forgot what that was like. Recently, in the comment thread of my article discussing What My House Taught Me About Selling Books, I was reminded how scary this industry can be. It's extra-intimidating if you don't have someone like Martin Crosbie to show you the ropes. I'm extremely fortunate.
So, I thought it might be nice to offer a little hand-holding and some baby steps for those of you who have yet to take the plunge into advertising their books. Here are a few easy steps to take you from Petrified Author to Seasoned Pro.
#1 – Get reviews. Some promotional sites require a certain number of reviews to ensure that the books they feed to their subscribers are indeed quality titles. If you can get verified purchase reviews, even better. Reviews are so important: they give potential readers confidence; they give the promo sites confidence; and most of all, they give YOU confidence. Not sure how to get reviews? We have a review resource page for you right here.
#2 – Make sure your book cover doesn't suck. The good promotional sites won't take your book if your cover sucks. The less effective or less honest sites will take your money, but you probably won't get a good return on investment if their readers can't read your title in thumbnail. I'm willing to bet that someone subscribed to a book service isn't going to squee and proclaim, "Oooh! I am going to click and buy this bluish book with the illegible title!" Check out our cover resource page here.
#3 – Get angry, then get determined. That's right. Get angry that you're not selling books. Get angry that your work is sitting there all pretty on your Amazon Author Central page and it's not doing a darn thing. Slam down your fist. Tell yourself you're going to claw your way out of oblivion. The world deserves to know about your books. When your anger and determination surpass your fear, you're ready.
#4 – Choose your promotion dates. There are all sorts of strategies out there about weekends, holidays, etc., etc. The most important thing is: make sure your book is at the price you say it's going to be on the days you committed to. Promo sites will NOT forget it if you embarrass them.
#5 – Free or bargain book. Only you can decide this. There are plenty of articles here at IU discussing the benefits and pitfalls of running free promotions, Kindle Countdowns, and just straight-up 99 cent sales which do not require KDP Select.
#6 – Free or paid promotion. This is another thing only you can decide. Is your book worth spending $3 or $5 or $25 on? You can always use the free sites first time around to get a feel for how things work. No one says you have to do one or the other. You can mix them.
#7 – Choose the book promo sites right for you. Not all sites will be right for you, just like not all cars or shoes or recipes are. Check out Martin Crosbie's generous list of Book Promotion Sites. READ the submissions guidelines for each site. Some are free, some are paid advertising. But seriously for the love of all things authorly, READ. Don't burn your bridges with these sites. Not all of them are as patient and forgiving as Indies Unlimited. *ahem* You're welcome.
#8 – Make a spreadsheet. Keep track of the sites you like by creating a spreadsheet, or use your favorite method. If you go to the trouble of doing the work once, why not have it at your fingertips for later promos? Here's a sample of the spreadsheet I made to track my promotions.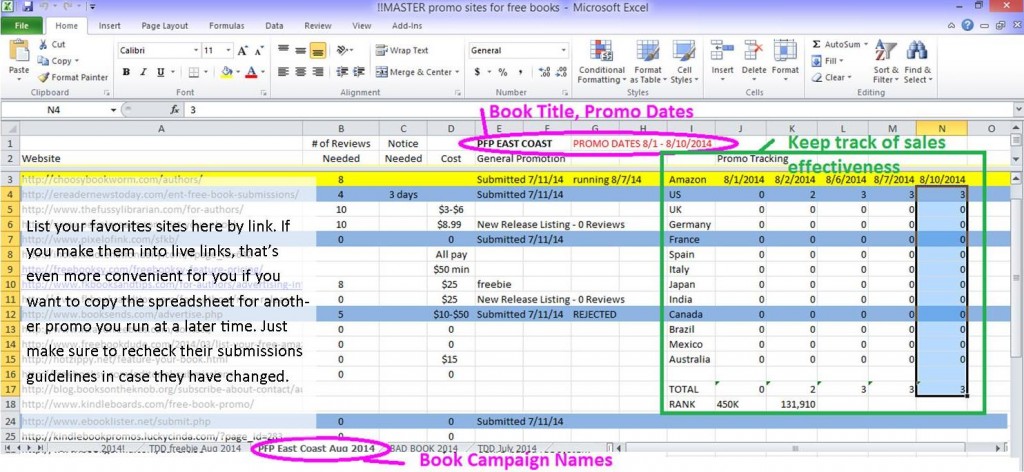 #9 – Submit your book. Follow the instructions on the forms, then submit. Submit to as many or as few as you want. Track on your spreadsheet when you submitted so you don't accidentally do it again for the same book.
#10 – Wait. Some of the sites will send you acknowledgements. Some won't. Some will send you approvals or rejections. Some won't.
#11 – Change your price. Make sure you give your book enough time for the price to update before the promotion goes live. That normally takes a few hours on Amazon. If you're also running the promotion on Smashwords and other sites, make sure to do your price change about a week in advance. The leadtime varies.
#12 – Share. Day of the promotion, make sure you're by a computer. Most sites will ask you to share, retweet, and follow their posts about your book. If you only run a promo once a month or so, go ahead and share it in groups and wherever else you'd like. if you have a newsletter, by all means mention it there. This article will give you more tips on how to put your promotions to work for you.
 #13 – Don't break the dashboard. Yeah, I may be guilty of having broken that a time or two refreshing my reports to see how many books I'd sold. Learn from my mistakes. Don't be that guy.
#14 – Pay attention. Watch your book's rankings. Be prepared to get screen captures if your book hits the bestsellers lists. That's something you're going to want to record and boast about – and, you can use it as credentials for the book when trying to get exposure from pickier sites.


#15 – Enjoy. That's the most important thing. Get over the "I've got to make this money back" mentality and you will have fun. My very first promotion ever, almost exactly one year ago, was incredibly exciting.
Now go forth, no-longer-frightened author. Make some waves. Have some fun. Sell some books.