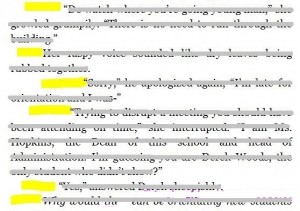 This past fall I published a self-publishing book. It looked great on my computer screen. The formatting was perfect; my spacing, indents, page breaks, etc., were all exactly where they needed to be, so I uploaded to Kindle Direct Publishing feeling pretty confident my preview in their online previewer would be error-free.
Boy, was I wrong. My paragraph indents were completely off. Some were indented too far, some not enough, and some just plain missing.

I went back to my manuscript and clicked on the pilcrow (the little paragraph symbol on the tool bar that shows all the formatting in your manuscript).  Everything looked fine. Telling myself it must have been an issue on KDP's end, I uploaded again.
I clicked through the various preview screens. On some devices, the formatting was good. On others, it was clearly off. I couldn't possibly upload a book that was going to have lousy formatting on half the devices that downloaded it.
I knew what needed to be done; I'd even written about it in the book. I needed to go nuclear.
My manuscript was written as a Word .doc, and Word is known for sometimes having hidden code that not even the pilcrow will show you. This is particularly true if you've copy/pasted a lot, saved in various places, or emailed the document back and forth.
When the document becomes corrupted and shows wonky formatting, there are a couple of options. One involves converting to HTML and finding and fixing the hidden code (I'll stop there, because that one sentence is about all I know on that topic.)
The other involves stripping the Word document of all of its formatting (which should get rid of the hidden code) then going through the document chapter by chapter and using Word settings to put the formatting back in. In other words: the nuclear option.
It sounds overwhelming, but although it's time consuming it's not difficult, and having a properly formatted book is paramount in this business.
To go nuclear (I'm using Microsoft Word 2010. If you're using a different version of Word, the commands will be the same but the location on the toolbar may be different):
1. First (and very important) save an extra copy of your manuscript. Just click on "File" on the upper left of your toolbar, click "Save as," name your manuscript something simple such as "Manuscript 2," and save. This will be your working manuscript as you strip the formatting and then add it back in.
2. Using that extra Manuscript 2 copy, select your entire document. The easiest way to do this, again in Word 2010, is to hold the "Control" button and then the "A" key.
3. Once you've selected all, go to "Change Styles" up on your tool bar. In Word 2010, still on the "Home" page, this is up on the right. Click the tiny, almost-invisible arrow on the bottom right of that tab and that should bring up a list of styles.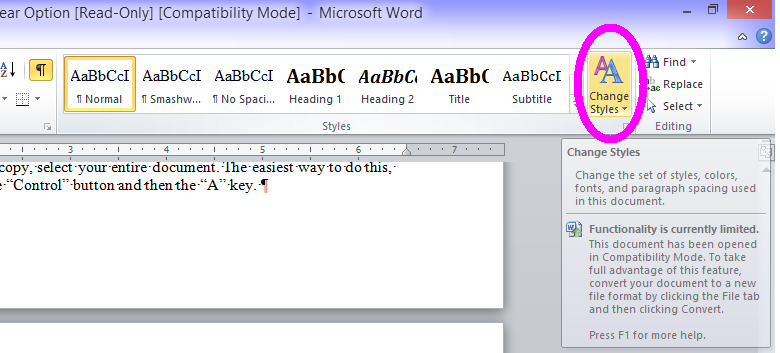 4. From that list, select "Normal." Warning: When you do this, it will remove all formatting from your document. Everything will be single spaced and left justified.
Don't panic; this is what's supposed to happen (this is also why you're using a copy of your original manuscript; if you make a mistake, your original will still be fine). Aside from removing every speck of formatting you worked so hard to achieve, this should also remove any corruption in your file.
From there, you'll need to go chapter by chapter and use the "Paragraph" settings on the "Home" page to reformat. Never use tabs for indents or multiple returns between chapters because they won't format correctly for most eReaders. Instead, formatting has to be done through the built-in paragraph setting options.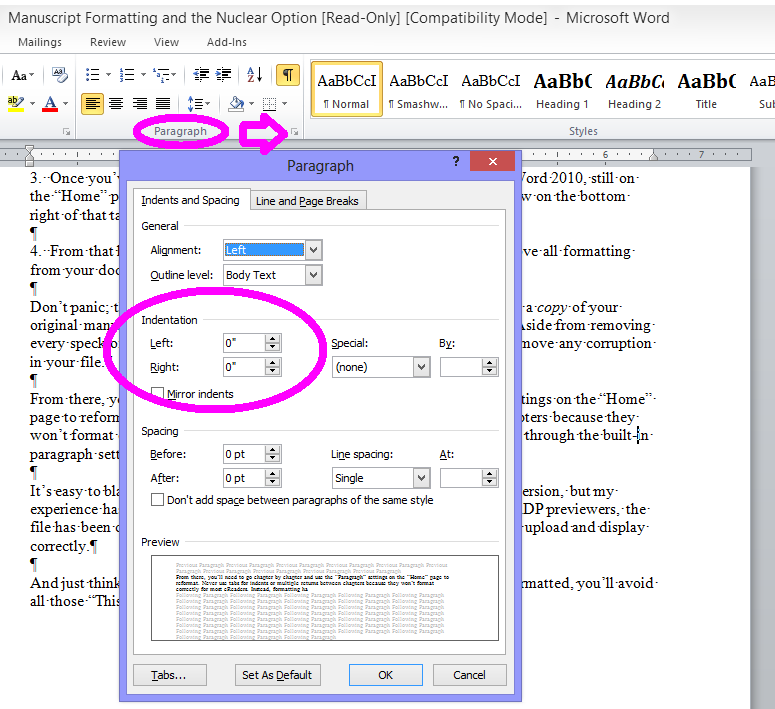 It's easy to blame bad formatting on something going wrong during the conversion, but my experience has been that, most times, when formatting is off in the various KDP previewers, the file has been corrupted and that hidden code has to be removed before it will upload and display correctly.
And just think: By ensuring your manuscript is uncorrupted and properly formatted, you'll avoid all those "This book has terrible formatting" reviews.