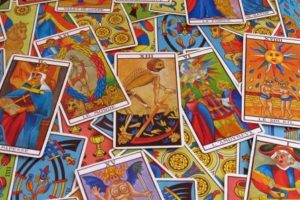 Everything old is new again, if you wait long enough. Every now and then, I run across an author on the internet who says, "I just had an amazing idea! I'm going to use Tarot cards in my next story! I bet nobody's ever done that before!"
Um, well, actually, lots of people have. Goodreads even has a list of books in which a Tarot reading figures in the plot. And that list is hardly exhaustive. I can think of two books published in the late 1960s whose authors used Tarot, or a variation on Tarot, as a plot device. One is Samuel R. Delany's Nova, in which the main character, a member of a spaceship crew, palms the Sun card so that a crucial reading cannot be finished – thereby jeopardizing the ship's mission. The other is actually a series: Roger Zelazny's Amber novels, in which the characters correspond to certain cards in a Tarot deck.
I've done it twice myself. The first time was in a short story, in which a Tarot reading presaged the main character's critical role in global events to come. The second time, I sent my main character on a Fool's Journey by means of a labyrinth.
I hear you out there: "Fool's Journey? Tarot cards? What are you getting us into, Lynne?"
I know, I know. A lot of people eye Tarot cards the same way they regard Ouija boards and the supernatural in general: with skepticism, or scorn, or dread. Let me assure you that Tarot cards are nothing to be scared of – and in fact, you can benefit from using them, even if you have no interest in putting them in a story.
First: A standard Tarot deck has 78 cards. Fifty-six of those cards correspond roughly to a normal pack of playing cards. They're broken into four suits – usually Wands, Cups, Swords, and Pentacles. Each suit has cards numbered from Ace to 10. But instead of the King, Queen, and Jack we're familiar with, Tarot suits have four court cards – King, Queen, Knight, and Page. Collectively, these 56 cards are called the Minor Arcana.
The remaining 22 cards are the Major Arcana. They are numbered from 0 to 21, with the 0 card being The Fool, and you can use them to tell a story called the Fool's Journey. In fact, the Fool's Journey is pretty close in structure to the Hero's Journey that Hollywood and many fiction writers use in coming-of-age stories.
While the structure of a Tarot deck is similar to that of playing cards, the cards themselves are not. Each individual Tarot card has a different scene depicted on it, and traditionally there are meanings associated with the scenes. For example, the Three of Cups shows three women dancing, and the card's meaning is that of a joyful celebration. The Eight of Swords shows a blindfolded woman with eight swords shoved into the ground behind her, but her feet are not tied and there's a castle on the hill behind her; the sense is that the woman could walk away from her peril and seek help, if only she chose to do so.
You can think of Tarot illustrations as archetypes. Carl Jung, the famous psychologist, believed in a thing called the collective unconscious, and that we all draw on common images – archetypes – from this collective unconscious when we dream, or when we think symbolically. Just about anyone can see an earth-mother-type in The Empress card, or the pope in The Hierophant card. But there are shades of meaning in each of the cards, and the same card may resonate differently with you on different days.
Here's where the Tarot can become useful for a writer. Let's say you're fleshing out a character, and you're not sure how he'd handle a financial windfall. You could draw a Tarot card and see whether you can make any associations between your character and the illustration on the card. If you draw the Four of Pentacles, your character may be a miser. But what if you draw the Six of Pentacles? Is your character the guy dispensing alms to the needy, or one of the people kneeling to accept the rich man's largesse?
Or maybe you've written yourself into a corner. You could draw a series of three or four cards and study their images to see if they indicate a way out.
Tarot cards aren't just for fortunetelling, and they're not just a plot device. You can use them like any other tool to jumpstart your creativity and get you out of a jam.