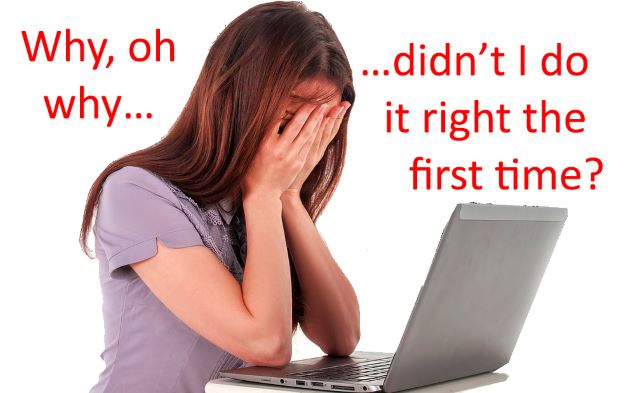 I'm in the middle of dealing with several clients (one of whom is myself!) who have made errors when entering book titles on Amazon. This is how it goes:
The Fatal Error
You enter an eBook in Kindle Direct Publishing. You put up the title, subtitle, author, etc. and all goes well. It goes so well you think now you'll get some print copies to sell locally, give away as prizes, etcetera, so you do a softcover edition. You used to go to Createspace for this, but now you just go to Kindle Direct Publishing and it's all done in one place. Which is probably better, because I think they now use exactly the same book information entry form, the lack of which was what caused my problem in the first place.
This time, when you enter the title, subtitle and author for your softcover book, MAKE SURE YOU HAVE THE EXACT SAME FORMAT AS THE eBook! Believe me, if you don't, you're in for a bucketload of hassle. Because here's the problem. At least, according to Amazon, anyway.
Set in Stone
Once you push the "Publish my Book" button, certain elements of the book's metadata (including the ISBN, of course) are now permanent. And if, for example, you somehow got one of these books with a subtitle and the other without, you can never change the dead-tree edition. eBook: yes. Softcover: no way.
In my case, I have several books in different series, and I noticed that three of them were not linking up with their corresponding eBook in my new combined Kindle dashboard. When I tried to link them, they wouldn't link. I discovered that some of them had subtitles attached to the title and others didn't. Okay, better fix that.
I Hit the Wall
I could change the eBooks to match the soft covers, but if my preferred format was on the eBooks, or if other softcovers in the same series had the different format, I couldn't change them. So now I have some books in the series with subtitles and some without. Sure, the covers all show the subtitles, but it's just a mess. Very unprofessional.
Emails from the Kindle helpline reiterate the same information: they can't be changed. Period.
Author Name Likewise
One of my editing clients had a much simpler problem. He published his book under his usual name, say, John Smith, and discovered there were a lot of other John Smiths who were authors, so later he tried to change it to John L. Smith. Can't be done, and he only discovered it after he had changed the cover image. I don't know how that's going to pan out when he puts up an Author Central Page on Amazon, but I'm not hopeful.
The Solution
Unless one of you wonderful IU readers comes up with a better idea, the only fix is to publish a second edition of the book, complete with a new ISBN, and make sure you get it right this time.
Fortunately for me I'm Canadian, so I just call up the Library and Archives of Canada and order ten new ISBNs for free. Some Americans have to deal with Bowker, or you can get a new, free one through Amazon. But we all have the added hassle. Of course, I should probably go over my backlist and do another sweep through for proofreading errors, etcetera and put up a new edition. But who has time for that?
The Real Solution: Do It Right the First Time.
No further comment needed.