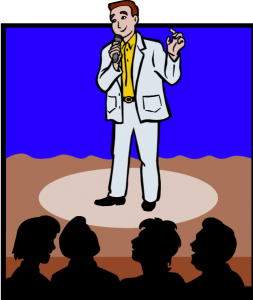 It's no good jeering at me and saying this post is rubbish. I am immune. I am deaf to your complaints and even better, I have learned how to deal with hecklers. You can say what you will, I'm determined to continue and explain why I've written it.
I understand your reluctance, after all, you probably write Science Fiction or Romance or YA and can't see how doing stand-up comedy can help. Rest assured it can.
In a nutshell, stand-up comedy is brilliant for the brain, your self-confidence, and for boosting your presence. People love comedy even if you're not very good at delivering it.
You do not need to go on a course to do stand-up. There are plenty of self-help books on this subject and indeed comedians who are willing to do online mentoring for merely a mention on your blog. They are artists like us and willing to assist others. If you want to sign up for a course and learn to do it with others, there are plenty available.
I write a lot about older people taking on new challenges, so doing a stand-up routine seemed an appropriate one for me. I am considered a humorous writer and can be funny on paper but when it comes to being quick-witted in person, that's another matter. I mumble and burble when people ask me about my books and selling opportunities are lost as a consequence.
Learning to do stand-up is eye-opening. There is not enough time here to write all about it but I can divulge that by the time I had prepared a five minute routine that I was satisfied with, I had actually written over 50,000 words, most of which had been dumped in an effort to have the best possible material. You may consider this a waste of writing. It is not. That five minutes, when taken on stage is worth every minute of sweat and toil. It can also be used time and time again.
The jokes, although important, are not in themselves enough. You also need to learn to appear relaxed and confident, (even if inside you are a quaking jelly) think on your feet and maybe even involve the audience without letting them steal focus from you. The only way to gain these skills is to get up on stage and do a gig, or gigs. It may seem daunting, however, an audience will be gentle with a first-timer. You can easily learn the techniques to gain their sympathy. Trust me on that.
If you can manage a comedy slot you'll find interviews on radio, doing talks, and any other public engagement a breeze. Your self-confidence will get a huge boost. You may even decide to do talks or more events like it.
In the past, I have done events at libraries and book clubs, talking about writing and the like. The audiences have generally been small (to virtually non-existent) and I have often come away feeling disheartened. In March this year, I was invited to talk at a local library. Instead of calling it an author event, we called it a comedy talk. I was able to talk about my writing and myself under the umbrella of comedy and how humour is necessary in our lives. I threw in my comedy routine. The event was a sell-out. The audience laughed a lot. Well, I think they did. I couldn't hear them over the thumping of my heart. The results were surprising. I sold more books after that event than any other previous events. I can only assume it was because people were in a lighter-hearted mood having laughed a lot.
Should you really not be able to face an audience of strangers, then write a short routine and try it out on friends or family. They'll be kinder to you. The process of writing jokes will exercise your brain and give it the chance to write something very different. Standing in front of people and delivering your jokes will make you more confident.
If you decide to bite the bullet, it'll be worth it. Following my event, I was booked for a further six engagements. So, why not dip your toe into the waters? You could always just start your talks with a few jokes about writers or writing to see how it goes.
(Written with apologies to Laurie Boris who is far better qualified to talk about this subject.)