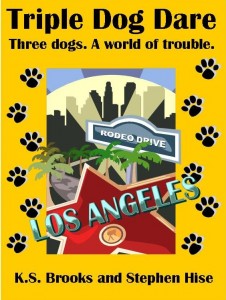 When wealthy champion dog breeder Stu Hockersmith presents prize pup Lord Louis to lovely Bianca Jameson, he hopes to win her heart. Bianca, oblivious to Stu's amorous intentions, takes the adorable pooch back home to California where she goes on to become a celebrated author, writing books about little Lo-Lou.
To make matters worse, Stu is informed that gifting the dog broke the kennel club bylaws and he now must get the pup back before his father's legal team takes action against the woman he still loves.
Triple Dog Dare, the light romantic comedy by K. S. Brooks and Stephen Hise, is available from Amazon.com and Amazon UK.

Don't forget, you can cast your vote for trailer of the month on May 31, 2014 at 5 p.m. Pacific time.