Valerie is among a handful of authors who cross genres with ease. She writes classic fantasy, romance, suspense, and even erotic romance under her pseudonym V.J. Devereaux.
Valerie describes herself as a fan of authors from almost every genre, from Isaac Asimov to Chelsea Quinn Yarbro. See what I did there? Kind of an A -Z thing, except there's no "Z" in the list.  (Note to self: Do not adopt pseudonym starting with letter Z.)
Valerie lives among a veritable menagerie of animals, including two dogs, four cats, an African clawed frog, and a husband.
She says of her writing style, "I want to take you with me into that experience, to be a part of the action, of the conversation, as if you were standing right there in the center of everything. Whether that place is the Elven Enclave or Aerilann (The Coming Storm) or the farmer's market on Millersburg's Main Street… I want you to feel the hopes and dreams of the characters, their desires and frustrations."
Valerie feels that anyone is capable of writing, but not everyone has what it takes to write fiction. She believes a good fiction author must possess a kind of emotional availability to render a character real, that the author experience what the characters are experiencing and feel what they feel. She says, "Sometimes it's difficult to go into those darker places, then come out and act normal."
In the way of advice to aspiring writers, Val offers these thoughts, "First, ask yourself – Do you love it? Does dancing with the muse make your heart soar? Hold onto that memory, it will get you through the rough times. Second, ask yourself what it is you want – to be rich, to be respected by your peers, or does the story you're writing simply have to be told and nothing else matters? Then you're a writer, all you have to do now is persevere."
Like many of us, Valerie finds marketing to be a challenging aspect of the business of writing. she says, "Most of my marketing is interactive (I hope), I try not to do the 'buy my book, buy my book' thing. I blog and twitter a bit, post to the various boards and Facebook pages, request reviews and do interviews like these. That's all much more productive than anything else I could do. I've tried paid advertising through Google, Facebook and Goodreads but the ROI just wasn't worth it. I might try it again now that I've refined my message a bit."
Val is also a leader and a mentor in the indie author community. She is an administrator and active member of several Facebook author groups. I am one of many authors who has received support and encouragement from Valerie.
In her view, "This is the best of times to be an author, because the possibilities are endless!"
Valerie's latest release is titled, "Nike's Wings." She describes it as, "A thriller about an ex-assassin for a secret division of the CIA who joins an information-gathering/swift response group I called the NIO." Val says, that in her recent travels she discovered that just such a group does exist. I hope that went well for her. Yikes.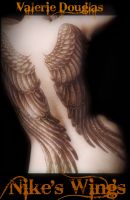 The book is new, so it hasn't had any reviews except by readers, but they seem to love it. One review on Smashwords says, "An incredible breath of fresh air! the story reels you in and you almost can't stop reading, figuratively keeping you at the edge of your seat as you read. The settings are very real and the action incredibly believable. it's one of those books you don't want to put down until you're finished."
Nike's Wings is available at Amazon.com US, Amazon.com UK, and Smashwords. I also encourage you to check out Valerie's website, her blog, and her Facebook fan page.