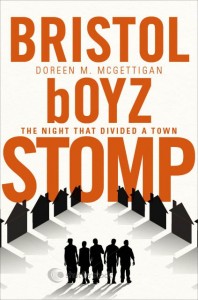 Author Doreen McGettigan contacted me to share some background on her book.  She says:
"In Bristol boyz Stomp, you will meet David, the victim, a soft spoken gentle giant with a great musical talent and his beautiful Icelandic wife. The reader will agonize with the family as they spend seventy-two-hours in the intensive care unit watching David slip away in front of them as they struggle to make decisions about organ donation and an autopsy while still trying to figure out exactly what did happen that night. The family will take you along on their frustrating journey as they navigate the justice system and learn how to deal with the media. You will become infuriated with the defense attorneys, the murderers families and their lack of compassion and the evil skirt and sneaker wearing district attorney who is only interested in winning an election. The reader will feel the author's pain as she struggles with grief, depression and defeat. A painfully gripping and honest detail that will leave readers inspired to hug everyone they love and forever to be looking in the rearview mirror."
Doreen McGettigan has written for several Philadelphia area newspapers. Since the brutal murder of her brother, she is committed to being an outspoken advocate for victims of all crimes and their families. She resides in Delaware County, Pa. with her husband, John.
Find out more about Doreen on her blog.