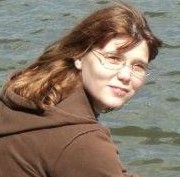 Author Maranda Russell says her book "Ode to Icky," is a picture book about a disgusting cat and his owner, Candy, a little girl who finds a way to make her pet's hygiene problems work for her. Hmmm. . . I don't own any cats, but my wife owns three, so this idea intrigues me.
Maranda says that one of the things that sets her writing apart is that she feels she really does still think like a child sometimes. "I still enjoy childhood activities, and find it easy to slip back into that pattern of thinking (even if that isn't always good). I also tend to think outside the box, sometimes a little too far, but I've learned to rein myself in a bit to better my stories. "
Where does she find inspiration? "A lot of my inspiration comes from experiences in my life, such as teaching, being a foster parent, working with troubled kids and my own childhood memories. I also have a vivid imagination and an active dream life which gives me some help," she says.
Maranda likens writing to an emotional roller coaster. She says, "You can be on top of the world one day and then receive a bad review or have a dip in sales and be in the gutters the next. Normally we creative types are sensitive anyway, but try not to take the ups and downs too hard. If you do, the whole thing can really drive you crazy."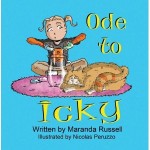 "Ode to Icky" is a brand new release, but is faring very well in customer reviews so far. She says one of the tough things about being a writer is waiting for feedback on her books.  "I have a need to know that my stuff is being read and enjoyed, because it is hard to keep going when you feel ignored or unnecessary. When those things happen, I just try to focus on past successes and keep plugging along. Sometimes I take a little break if I am too frustrated."
Maranda has not used beta readers, but has thought about it.  She says, "I tend to be a private person though who likes to keep her work under lock and key until it is ready to release. I do pay close attention to any criticism or advice I get once the story is written though, and have made changes based on those editorial tips."
Her advice to aspiring writers is to keep trying. "It is easy to get frustrated and give up when things aren't going well, but if you just keep trying, it will eventually pay off. Of course, if you really love the craft you will keep writing anyway, even if you do give up on publishing and marketing sometimes."
"Ode to Icky" is available in print from Amazon and from Barnes and Noble.  Learn more about Maranda and her writing at her website. You can also find her on Facebook or follow her on Twitter.