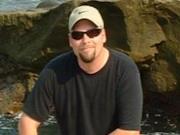 Author Dean Lappi says his writing style can be broken down in two ways. First, he says writes directly, with few extra words in a sentence. "I don't know if this is good or bad, but it comes from a personal preference of mine to not have to write a scene that takes 500 words when I could do it just as well in 300 words."
Second, he writes with a style that he says leans toward the disturbing and strange. "I've always written this way. In college when I took poetry, fiction, and playwriting courses, I tended to write pieces from an angle that [made] people slightly uncomfortable," he says. Let's hope that comment didn't come from his geography professor.
Dean says that what inspires him to write is different from what inspires the ideas that turn into books. "My wife and family inspire me to write the best books that I can. They support me in so many ways. My ideas for books are usually inspired from my dreams. I have very vivid dreams that usually have complete storylines, kind of like a full movie playing out in my head. I often wake up and immediately write them down."
He says at other times an inspiration for a story will pop into his head during random times in the day, fully formed and ready to put down on paper. "This happened with my novel Black Numbers. I was sitting in a coffee shop one day. . . when all of a sudden an idea popped into my head: 'What if magic were created through advanced mathematics?' I started writing and didn't stop until I had the entire first chapter written of what turned out to be chapter 2 of my finished book."
Dean says the most challenging part for him was just learning how to structurally write a novel. He  purchased 12 books on writing/editing/publishing a novel, and read them all. "I filtered out the information that I didn't find useful, and highlighted the information that was really good. One book called 'The Novel Writer's Toolkit' by Bob Mayer (who I've spoken with many times on Twitter since then) was by far the best book I found. I used it constantly and highly recommend it to new authors,"  Dean says.
As the years passed by and he became more comfortable with novel writing, he found he didn't need these books anymore. But, he says, ". . . new challenges always present themselves, like how to find time in a very busy schedule to write, how to improve my writing, and others."
Dean's wife, who has a Master of Arts degree in English, read and edited his book. "I would recommend her to anyone who needs a beta reader. My brother and sister both read my book in its early stages and gave great structural feedback. I also have a friend named Lisa who read it, and she has this amazing ability to spot inconsistencies that are sometimes hundreds of pages apart. For example, as authors we always have to rewrite sections, but in doing that, we have to trace that change throughout the whole novel to see how it impacts later scenes, kind of like dropping a pebble in a pond and watching the waves ripple out. It is very difficult to ensure you find every single ripple in the storyline," he says.
Dean found success using Twitter to market his book. "I had never been on Twitter before so was dubious, but I signed up anyway. I quickly found out that Twitter is the single best tool I had at my disposal for not only marketing my book, but for connecting with amazing people, including fellow indie authors, New York Times best-selling authors, actors, producers, directors, and readers. But I quickly found out you will only get out of Twitter what you put into it. What I mean is, you have to go on every single day, you have to build relationships, and you have to be professional at all times. In the past five months I've met and become friends with amazing people. In fact, it was through a Twitter friend that I was introduced to J. Darroll Hall, the founder and owner of Fantasy Island Book Publishing, which I ended up joining and who published my book in Print and eBook."
Most of Dean's time is taken up with editing, marketing, networking, and writing book two in the series, called "Blood Numbers." He  also became an editor with his publishing company, so he has not had a lot of time for recreational reading, but he is looking forward to reading all of the published authors that are releasing their books through Fantasy Island Book Publishing. He says, "We now have 10 books in print, with at least 15 more coming out in the next few months. I've become good friends with them all and can't wait to read their amazing books."
As for advice to aspiring authors, Dean says, "The key advice I can give is to never give up on your book, or your dreams to be a published author. I know that is very basic, but when it comes to writing a book, we are all very vulnerable because our book is like our baby; we've created it, raised it, seen it mature, and know it is an insight into who we are. So it is very easy to get discouraged. . . don't give up! Keep pushing forward and don't stop for anything!"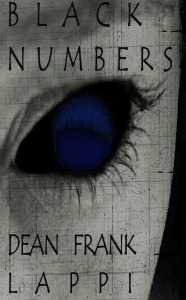 Dean recognizes and welcomes the technological advances that have made it easier for authors to publish their work, but says the work doesn't stop anymore with handing a manuscript over to someone else. "We, as authors, need to work even harder now to market our books, to make a name for ourselves, and to get our products noticed. If you are not published with a major publisher, you must do ALL of the work yourself to sell your books. So put as much energy into your book AFTER you publish it as you did while writing it. Blog, Twitter, Facebook, Google+, NaNo, and never stop doing this."
Dean's current title is "Black Numbers," a hybrid fantasy/horror novel for adults only. In "Black Numbers," magic is based on mathematics, and Dean's main character, Sid is something special. Sid's awakening sexuality and genius-level mastery of advanced mathematics combines to create a power beyond anything seen in the world. A dangerous and seductive creature called the Korpor hunts Sid as his journey propels him to the center of a 1000-year-struggle with an outcome obscured by the darkness known as Black Numbers.
The book has received great reviews on Amazon, though Dean says he just received his first bad review a few days ago. He says, "While a single negative review doesn't necessarily mean that much if it is surrounded by many 5 star reviews (some people just don't like a book), it is also very useful to us as authors. I will personally use that negative review to ensure that I improve my next book."
"Black Numbers" is available through Amazon or Fantasy Island Book Publishing. You can find Dean Lappi on Facebook, Twitter and Google Plus. Be sure to also check out Dean's blog, and watch his book trailer.