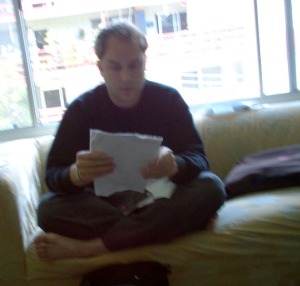 I have never been very good at expressing my emotions verbally.  I don't have that problem when writing.  Which is lucky, because good writing must be emotionally honest to resonate with the reader.  Even when it is fiction, it must be honest.  Writers can't afford to pull punches or hedge their bets…not if they want to really reach their readers and establish that all important connection…the one that makes reading so magical.  This can create some interesting problems.  
Art is about expression.  A composer expresses him/herself through music.  A painter appeals to our visual sensibilities.  I would argue that this allows a bit of a buffer that writers can't afford.  There is an immediacy to good writing…a closeness.  It is harder to separate the art from the artist because the medium is language.  The writer and reader are having a kind of conversation.  It is a strange dilemma.
I have always been surprised by readers' reactions to what I write.  My fiction is generally fairly psychologically 'dark'.  I would choose the word 'real', but most people go with 'dark'.  Some would argue that they are often synonymous.  The world is not a nice place sometimes.  Being human is a hard and brutal task for many people.  Why then, would I write about the human experience like it is nothing but spring afternoons and rose petals?
Sure, there is beauty in what I write.  Often, I find the most beautiful passages to be the ones that are the hardest to read.  There is beauty in truth.  And truth is pain, loneliness, and vitriol as much as it is comfort, love, and friendship.
I came to terms with this strange dichotomy long ago.  It took me a little while to figure out.  When I was  younger, I would give someone a story, and they would hand it back to me when they had finished reading it with a look of unease.  It was 'good', they would say, but behind the compliment there would be discomfort.  'Pretty dark', they would say.  I'd shrug and try to smile.  And then they would go watch a TV show where people were brutally assaulted, murdered, and slashed apart in bright living color.
The writer's burden is this: there is an immediacy to writing that does not exist with other forms of artistic expression.  When you watch a movie, you are captivated by the images on the screen.  You don't necessarily picture a screenwriter sitting at a keyboard and creating the story line.  You don't picture the director showing the villain just how to disembowel a victim to make it look more authentic.  But many people, when they read, cannot divorce themselves from the image of the writer, at the computer, crafting the story that entertains and sometimes shocks them.  You write a story about suicide and everyone thinks you're suicidal.  You make the wife a bitch and you get a tearful phone call.
Writing is a solitary act, and that plays into it, too.  When someone reads my novel or one of my stories, they know that 'I' wrote it.  There was not a team of writers involved.  There were no focus groups.  (In truth, there are often others involved in helping me mold my work, but perception is everything).  This immediacy becomes especially hard when you are reading something written by someone you know.  It is difficult not to wonder where the 'reality' ends and the 'fiction' begins.
My mother loves me very much.  I know that.  She has not read my novel, Joe Café, and she probably never will.  In fact, I advised her not to.  She is too close to me.  It would be hard for her to read.  It is the darkest thing I have ever written.  Not because I wanted to shock people.  Because that is the story that needed to be told.  And it is not a story my mom wants to hear – especially from her son.  There have been many people close to me who have read it, though.  And sometimes they ask  hard questions.  'How did you even think of that?'  Well, I don't know.  It was what the story needed.  'Is this about you/me/someone we know?'  Of course not, it's fiction – even if it's not.  The second question is fairly easy to field.  The first one is harder.  It implies that there is something dark and evil inside me that allows me to write about dark and evil things.
It is a very odd phenomena.  We watch violent movies.  We watch the news and see that people are beaten, raped, murdered by the thousand all over the world, daily.  These things happen.  They are part of life.  But if you write about them, you are removing the distance.  You are telling the story.  The trauma came from your mind.  This doesn't mean you shouldn't tell the story.  It does mean you should be ready for the questions.  It is the choice we make as authors – we invite the questions.  Intentionally or not.
If your writing is full of joy and love and happiness, you probably have an easier time of it.  And there is truth and beauty in those things as well…I am by no means putting down 'happy' writing…I just don't do a lot of it.  My writing is not always uplifting – sometimes it is, and I happily send those stories to Mom.  Often the stories are about hardship, struggle, misery – life.  My fictional world is not a particularly cheerful place.  Neither is real life.  But life writes its own story.  And therein lies the difference.
*     *     *     *     *
JD Mader is the author of 'Joe Café' and a Contributing author to IU. You can find more of JD's writing at his blog www.jdmader.com.
[subscribe2]