Whether you think Amazon.com is too big for its own good, or not, doesn't matter. As Indie authors, we're all on it, and we all need it. One thing Amazon does do well is providing authors with tools to get the word out about their work(s). You've got to give them that.
But not all authors are taking advantage of the free tools offered by Amazon.com. Today, we're going to start with Amazon Author Central pages – because this is the FIRST thing an author should do.
One way Amazon makes Author Central pages convenient is that you don't need to set up a special author account. You can use your existing customer account log-in (if you're already a customer). If you're not, you can set up an account. This account is NOT linked to your Kindle Direct or Createspace accounts, if you have those. This is completely separate.
Before I show you how to claim and set up your author page, you'd probably like to know why you need one. #1 – they're free. It's like having your own multi-media website from which people can also buy your books. #2 – you can post your biography, video trailers and even rss feeds from your blog(s) and twitter there. #3 – you can post upcoming events, signings, appearances, etc. #4 – potential readers can post questions directly to you in the "discussions" forum. And lastly #5 – All your books will be linked to one page where people can see everything: how many books, how many reviews, and the cost. Here's a screen shot of my Amazon.com Author Central page to give you an idea (click on it to enlarge):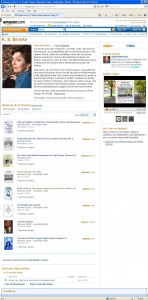 That's a lot of functionality for free, isn't it? So what are you waiting for?
If you already have a book listed with Amazon, here's what you do. Go to https://authorcentral.amazon.com/. On the right hand side of the screen, it says "New to Author Central?" And under that is a yellow button which reads "Join Now". Click on that.
On the next screen, if you're already an Amazon.com customer, fill in your log-in information there and sign in. (If you don't already have an account, type in your email address, then click "no" and follow the instructions from there.) You'll be asked to accept their terms etc., etc. You know what to do. Next, fill in how your author name appears on your book(s) so they can match you up. They'll ask you to confirm your identity. Continue to follow the instructions from there.
Now there are lots of things you can do with your Author Central page. You can update your page to include multimedia, blog feeds, a Twitter feed, or events, you can edit your list of books, and you can add more books when they become available. Their instructions are very user friendly.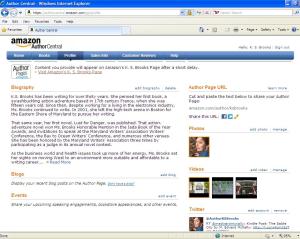 If you click "profile" on the blue bar in your Author Central dashboard, it will bring up a screen with everything you need to customize your page. It even gives you the opportunity to customize a shortcut url for your Author Central page.  Click on the screenshot to the right to enlarge it.
So there you have it. Set up your Author Central page and share it!
We'll talk about Amazon Affiliates in installment #2.
*     *     *     *     *
K.S. Brooks is an award-winning author and photographer, and Co-Administrator of Indies Unlimited. For more information, please see the IU Bio page and her web site: http://www.ksbrooks.com/[subscribe2]