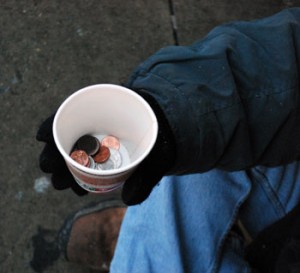 I'm feeling a little bit bitter today.  It's not a feeling I enjoy, so I'm gonna write it out.  Here's my issue.  We're getting hosed.  I have literally smeared the internet with words – and 90% of them do nothing for me monetarily.  I have one novel on Amazon: Joe Café. I have gotten 25 reviews and the book is rated at 4.5 stars.  Cool.  I got a review a while back that started "Well written & compelling."  Good, right?  Then it said the ending was abrupt and that it was "worth it" as a .99 cent book, but the reviewer saw that the price had been raised to $4.99 and it was not worth that much.
Bad reviews come, and I have enough good reviews that the fact that some random guy thinks my book ends abruptly (a conscious choice) doesn't bum me out much.  What gets to me is the economics.  I am not a greedy person.  But here is what pisses me off.  If you thought the book was "Well written & compelling," then it was worth $4.99.  Do you know how much a sandwich costs?
But, I'm a sucker.  So, my novel is back down at .99 cents.  And I am not alone.  My friends price their books way low.  And it bothers me.  A lot of readers can't tell an amazing book from an average book.  That's part of it.  By which I mean, why pay for a really good book when you can get a ton of free mediocre books on your Kindle?
But the real crime is this.  Writers, the majority of us, spend a LOT of time on our work.  We write, edit, market, blah, blah, blah…and .99 cents is the going rate for an indie book?  Are you freaking kidding me?
That's a soda.  That's 1/3 of a double latte.  With Caramel.  Got to have the caramel.  There are a lot of good things about the way the publishing industry is moving right now, but there are some bad things, too.  And one of the baddest of the bad things is that people think $4.99 is a ridiculous price for a book.  Remember ten years ago when a paperback cost $7.99?  What about magazines?  You buy a magazine at the newsstand and you're out 5 bucks.  WE REGULARLY BUY A BOTTLE OF WATER FOR A DOLLAR, AND WATER CAN BE HAD FOR FREE!  You're telling me that water with a fancy label that doesn't even undergo the same governmental oversight as tap water (and is therefore worse for you) is worth more than my novel???
The fact that you can buy a good book for .99 cents is insanity.  Yet people who smoke (you could buy my book 5 times for what cigarettes cost now), or tip a buck with their coffee are incensed by the idea that an indie author might actually charge what their book is worth.
On my blog (www.jdmader.com), there is a collection of short stories – a decade's work.  Some of them have been published.  Some have won awards.  All of them are available for free.  I write essays on there, too.  All free.  But people don't even leave a comment because it's a hassle.  Granted, I get a lot of emails and messages on Facebook, but leave a comment on the actual blog!  It helps me out!
And this is when I really get pissed.   There is a collection of short stories available to you for free.  There is a 'book' of essays available for free.  I interview other writers and introduce you to cool new stuff you might not have found on your own.  ALL OF THAT IS FREE!  I have recorded four records.  All the music is available for free download here.  The only thing that costs money is the .99 cent novel.
I regularly go to shows, art showings, etc. and I buy something to help support the artist.  Where is this sense of gratitude for us lowly indie writers?  You'd think one of the hundreds of people that tell me on facebook that they loved the stories on my blog…that one of the posts I wrote about fatherhood was the funniest thing they've ever read…you'd think they'd think to themselves…hmm, how can I give back a little?  Well, I could drop NINETY-NINE freaking cents on a novel.  Even if I'm not going to read it – even if I don't care for the genre.  It's the principle.
This is not about me.  This is about all of us, because we are all getting screwed in the same way.  You're reading this for free right now.  I don't see a thin dime as a result of that.  Cool.  I'm good with that.  But if you message me on facebook and tell me that something I wrote on my blog was "really amazing' and that 'it came at a time when you really needed a smile/chuckle/escape".  Well, golly gee, thanks.  There's a real simple .99 cent way you could express your appreciation and help me pay my rent.
Writers are not generally greedy people.  If they are, they are stupid because this is not the place to get rich.  But I don't understand why social, monetary conventions don't apply in this world.  You tip cab drivers, waiters, and baristas.  Hise started this blog to help writers.  A lot of you have probably read a good bit and gained some information and entertainment on here.  Why don't you buy his book?  Why don't you donate a few bucks?  Hell, I donated and I work here!  For FREE!
My blogs don't reach as many people, but they reach enough – you know I can track how many people visit the blogs right?  And there are people literally all over the world (in countries I've never even heard of) listening to my music (props to my partner, Pat Renker, BTW).  They are getting something out of the deal.  Our song is on your iPod.  How come all we get are pats on the back?
Now, enough with the bitterness and back to the writing.  But seriously people, a lot of work goes into people's blogs.  Leave them a comment.  .99 cents is cheap for a BAD book.  You can get a good one.  So, do it.  Support the writers and artists you enjoy so they can keep doing their thing.  Think about how much you pay to watch a crappy TV show.  The bag of chips you eat while you watch it probably cost more than my book.
*     *     *     *     *
JD Mader is the author of 'Joe Café' and a Contributing Author to IU. You can find more of JD's writing at his blog www.jdmader.com.
[subscribe2]