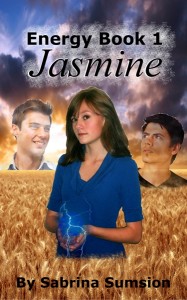 Today we get a sneak peek of author Sabrina Sumsion's first novel, Jasmine: Energy Book 1:
When Jasmine moves to Omaha, Ne with her Colonel father as he works on top secret matters at Offut Air Force Base, she prepares herself for another lonely station. Jasmine meets Yumi, a mysterious girl in Art Class, and her world changes.   Jasmine plots to stay in Omaha but the acceptance of Yumi's housemates is central to her plans. Their rejection surprises her until she realizes they have a secret. For a chance at stability and blossoming love, Jasmine puts herself in harm's way to rescue Yumi and find the home she's been searching for since her mother died.
Jasmine:  Energy Book 1 is available for Kindle on Amazon.com
And now, from Jasmine: Energy Book 1:
Chapter Two
"This mission is imperative. If we fail, we can't go home." stated Honorio. He placed both hands on the table in the middle of the dimly lit room. His dark brown eyes scanned each person. These people, his team, reacted differently to his words.
Joseph reclined in a chair turned to the side of the table and threw a ball against the wall. He never took things seriously enough in Honorio's opinion. His ever present smug grin stemmed from confidence in his skills. Unfortunately, Honorio could not trust in mere skill. He needed to know that his team functioned cohesively.
Yumi sat silently at the table and scanned everyone's faces. Honorio knew he could trust her. Her presence soothed him. When he was honest with himself, he acknowledged the fact that she made everyone relax -one of her most valuable assets.
"Relax Nori." purred Malika. "We have practiced enough times that we can do this in our sleep." She flicked her long blonde hair with her right hand while flipping a dagger in her left. Honorio knew she could handle the course laid out. Unfortunately, she preferred to do things her way in stressful situations. She lacked the team playing spirit Honorio needed to feel comfortable.
"That is not good enough. I want everything perfect. No one hurt, no one captured, no one aware of our presence." He stared at the unchanged faces surrounding him. Honorio wanted to break the table out of frustration. None of his words seemed to convey the urgency and seriousness of their situation.
Tyrone, hunched over in his chair with hands tightly clasped, stuttered, "W-We could go over the plan one more time." He looked up at Honorio with a pleading expression.
Joseph groaned loudly. "We already know what we are doing. Do not torture us anymore."
Honorio glared at Joseph then studied Tyrone's face. Tyrone's wide eyes and fidgeting hands worried Honorio. Tyrone had one of the most brilliant minds Honorio ever met but he did not belong in the group. He volunteered to help but unwittingly stumbled into more than he could handle. No turning back now. If they failed at their mission, they would never see home again.
"Okay. Here's the plan again . . ." Honorio began amidst the sighs from Malika and Joseph.[subscribe2]