Author P.K. Harrington contacted Indies Unlimited  about the release of her new book, 2012 Armageddon: Unholy Alliance. This new title was released in November 2011 in Kindle and December 2011 in paperback. She says, "This is my first and possibly only fiction title. It is available through Amazon, Barnes & Noble Nook and Smashwords."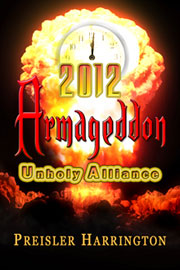 While working the case files of the Department of Homeland Security, Jordan a criminal investigator, her boss, Special Agent Barrett and their joint task force are given custody of a defecting Chinese MSS agent. Zhao Minsheng has decades of intelligence and current operations to expose, but most importantly, information regarding a global conspiracy plot to carry out a multi faceted attack on the United States homeland in 2012. Zhao explains the conspirators want to self fulfill the doomsday predictions and enhance the fears surrounding the year 2012. Jordan enlists the help of her Coast Guard husband, Leonard, and the three of them try to quash the evil plan and to spread the word about being prepared. Jordan and Leonard do everything they can to prepare their own close knit family as time for the attacks draws closer and efforts to completely stop this catastrophe are increasingly overwhelming.
2012 Armageddon: Unholy Alliance is available from Amazon in print or Kindle format, Smashwords, and Barnes and Noble.
[subscribe2]