Today we're pleased to announce the winner of the 9th weekly Flash Fiction competition at Indies Unlimited.
The winning entry is rewarded with a special feature here today and a place in our collection of winners which will be published as an e-book at year end.
With 27% of the votes, the winner is: Contestant #9– William C. Busch.
Congratulations to William, and thanks to everyone who participated – excellent entries! Now, without further ado, (cue symphony) here's the winning entry: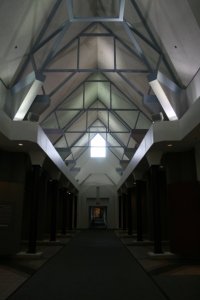 The Dream
by William C. Busch
The hallway beckoned me forward, coaxing me toward my destination. The door had always been closed, yet here it stood open. Mist snaked out along the floor from the portal, wisps weaving their way around the columns that lined the hallway. I knew at that moment I would travel through the doorway whether I wanted to or not. This wasn't a choice. This was Destiny with a capital D. Might as well embrace it, I thought.
Four large strides, nearly leaps it seemed, brought me to the precipice of the entry. Or was it an exit? Or something else entirely? No use pondering what was on the other side, the only thing of importance was that it was in my grasp now. I stepped through into the darkness… and awoke, panting as the images from the edge of my consciousness flashed across my vision, like a thousand paintings never painted and a thousand photos never taken. I bounded out of bed and into my writing chair, frantically scribbling the torrent of ideas, characters and themes into my notebook. The doorway was open and the knowledge flooded out. All I had to do was let it be written.
*     *     *     *     *
The photograph used in the challenge was taken in Rochester, NY at the George Eastman (Kodak) House in October 2008.  This is the "Exhibit Hall."